The most recent retail spending data shows that more than 50 million Americans use CBD on a daily basis! Find out why, as we break down and explain the information learned from the poll.
In a 2019 poll conducted by Gallup, it was revealed that more than 14% of adults in the U.S. reported using at least one type of CBD infused product on a regular basis. That breaks down to one in seven Americans!
This is not all that surprising when you consider the magnitude of the CBD market in the U.S., currently valued at around $5 billion and expected to grow at a CAGR (Compound Annual Growth Rate) of 34% through the year 2025, to the sum of over $23 billion.
Out of all the participants, 40% responded that they used CBD for pain, 20% responded that they used CBD for anxiety, and 11% responded that they used CBD for sleep.
Who Is the Typical CBD User In America?
According to the poll, the biggest group of CBD users is the 18-29 group and the majority of them are located in the Western U.S. While those are impressive numbers, the poll also revealed that 50% chose not to use CBD, and another 35% was not familiar with it enough to even answer the question.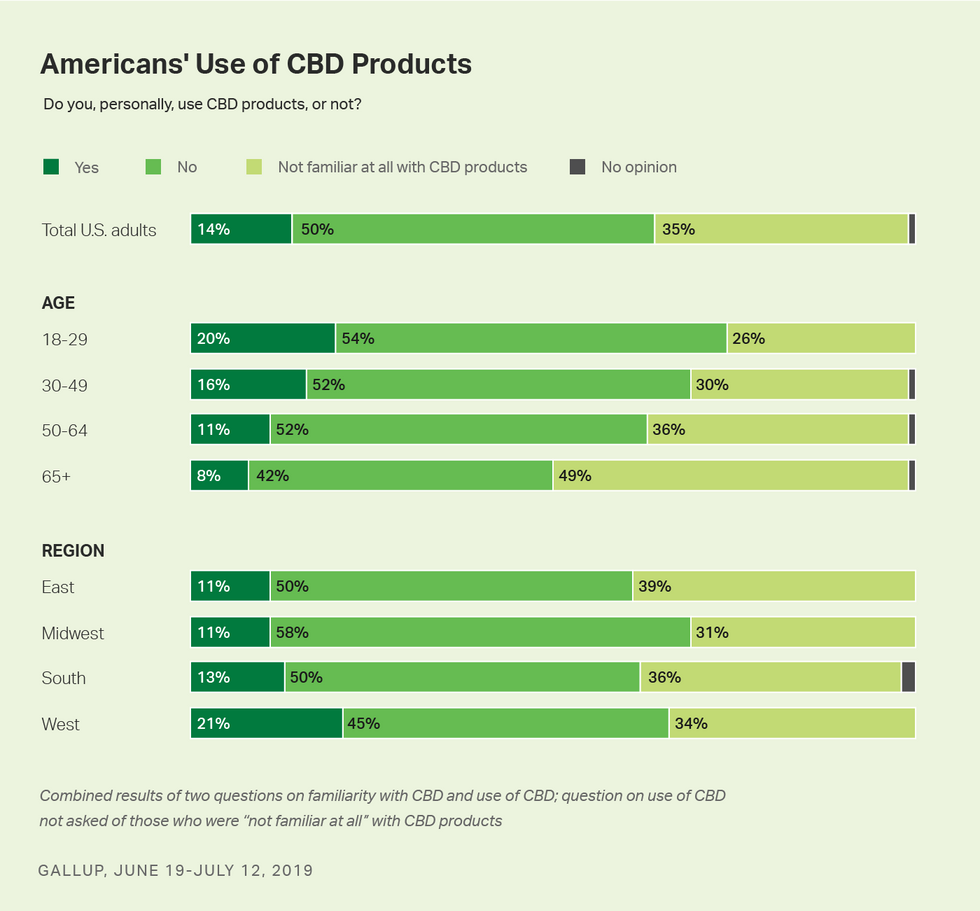 Poll Showing American Use Of CBDGalliup
Being that I am a glass half full guy, there seems to be an enormous opportunity here to attract tens of millions more people to the benefits and wonders of CBD. However, while there is certainly not a lack of CBD companies on the market today, the real problem is that there is basically no oversight on the products being produced and consumers have very little knowledge as to what they are putting in their body. This lack of oversight has led to a lot of unscrupulous individuals taking advantage of unassuming customers and the FDA needs to stay on top of enforcement.
What Kinds Of CBD Products Are People Using?

Some of the most commonly sold types of CBD on the market today include vape carts, tincture (oral solution), gel caps, and a wide variety of edible products that range from gummy candy to beef jerky.
The best type of CBD product to use for pain is a high CBD balm or salve, which is meant to be rubbed on to the site of the pain and the active ingredients are absorbed directly through the skin.
Consumers looking to take the edge off, or for a little extra insurance towards a good night's rest, should try edibles containing large doses of CBD. Mixes of CBD and THC are also used very effectively to treat pain in states where products containing cannabis are allowed. **Check your local laws before buying any CBD products online, as amounts of allowable THC vary by state.
If you haven't tried CBD before and are considering it now, you should research companies before just blindly consuming the first CBD you come across. There is hardly any regulation on these products and there are specific things you can look for to weed (no pun intended) out the bad eggs in the industry.
Many of the most popular CBD companies started to place QR codes on the packaging, which will take you to a website with individual test results for the batch of the product that you are holding in your hand. While this is still not a 100% guarantee, it will give you a pretty good sense as to the quality of the CBD and whether or not it can be trusted. In case you were wondering, these QR codes have already been counterfeited and placed on THC-based products being sold on the black market like vape carts and edibles. It is clear the industry has a long way to go as far as legitimizing itself and also distancing itself from the black market, which has seen a resurgence in popularity over the last few years.
Does CBD Really Work For Pain?
CBD, which is a cannabinoid, interacts with the human endocannabinoid system, which plays a role in memory, mood, stress, appetite, metabolism, sleep, pain, as well as immune function and reproductive function.
CBD's ability to stimulate an anti-inflammatory response in the body is what makes it so effective at treating pain. It is well known that powerful painkillers, like Vicodin and Percocet, will fog your brain and make you feel good, but do not actually do anything to address the roof of the problem. As CBD becomes trendy and its popularity grows, more and more people are willing to give a try.
Despite the fact that federal regulations have largely prohibited any type of scientific research into the benefits of cannabinoids in the human body, there is a ton of anecdotal evidence and stores from sick patients all over the world that have benefited greatly from the use of CBD at some point in their lives.
Once the government relaxes restrictions surrounding the cannabis plant, research will help companies learn how to make the most effective products and I expect to see a significant increase in the amount of people consuming CBD on a daily basis.