On July 31st, 2020 the FDA approved CBD based medication, Epidiolex, for use on a 3rd type of illness.

Produced by British pharmaceutical giant, G.W. Pharma, Epidiolex is currently the only legal medication containing CBD available by prescription in America today.
A drug that was originally only approved to treat two rare forms of epilepsy, Dravet syndrome, and Lennox-Gastaut syndrome, in any patient two years of age or older, Epidiolex can now be prescribed for any patient with tuberous sclerosis complex (TSC) that is one year of age or older. By lowering the minimum age requirement from 2 years of age to 1, many more sick infants will have the chance to start treatment with Epidiolex, begin to feel better, and improve their overall quality of life.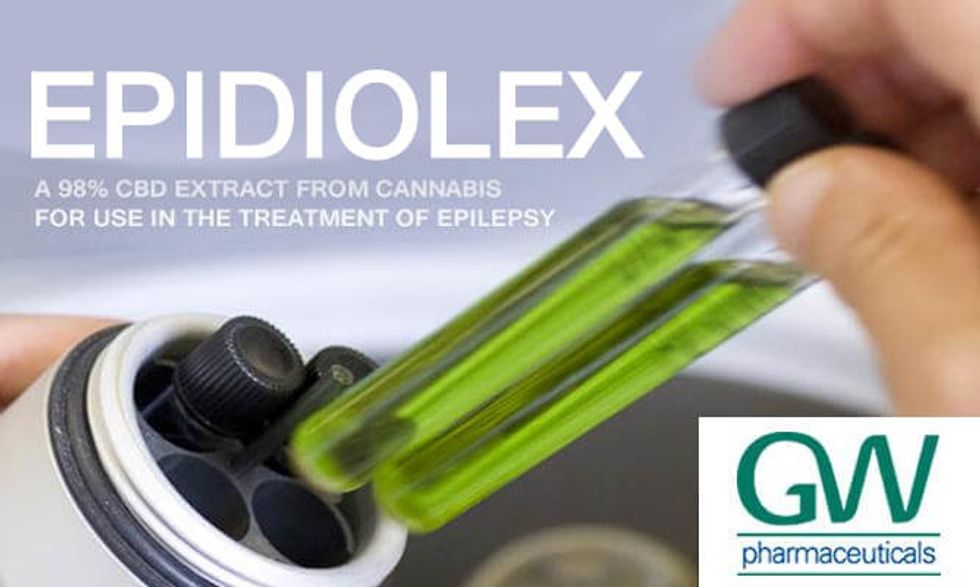 Epidiolex Oral SolutionG.W. Pharmaceuticals
Here's what the FDA had to say about the drug approval process for prescription medication in the United States:

"The FDA continues to believe the drug approval process represents the best way to make new medicines, including any drugs derived from cannabis, available to patients in need of appropriate medical therapy such as the treatment of seizures associated with these rare conditions. This paradigm ensures new therapies are safe, effective, and manufactured to a high quality that provides uniform and reliable dosing for patients," - Douglass Throckmorton, M.D., deputy director for regulatory programs in the FDA's Center for Drug Evaluation and Research.
"The agency is committed to supporting rigorous scientific research on the potential medical uses of cannabis-derived products and working with product developers who are interested in bringing patients safe and effective, high quality products."
What Is TSC (tuberous sclerosis complex)?
According to the FDA, TSC is a rare genetic disease that causes non-cancerous, or benign, tumors to grow in the brain and other parts of the body like the eyes, kidneys, heart, lungs, and skin. TSC usually affects the central nervous system and can result in a combination of symptoms including, but not limited to, seizures, developmental delay, and behavioral problems, although the signs and symptoms of the condition, as well as the severity of the symptoms, vary widely.
TSC affects approximately 1 in 6,000 people.
GW's Chief Executive Officer, Justin Gover, made the following statement released on Global News Wire,
"FDA approval of this new indication is exciting news for those with refractory seizures due to tuberous sclerosis complex. Since EPIDIOLEX is already available to patients by physician's prescription, patients with TSC can immediately access the medication. This label expansion, including the expansion of the age range in all approved indications, further demonstrates that the FDA process can continue to enable broader patient access to appropriately tested regulatory approved cannabinoid medicines. It also provides hopes for these patients and their families and is yet another important milestone for EPIDIOLEX as a first-in-class antiepileptic drug."
The President and CEO of the Tuberous Sclerosis Alliance, Kari Luther Rosbeck, made a statement in response to the most recent inclusion by the FDA.
" FDA approval of EPIDIOLEX in TSC is a tremendous step forward and our community applauds this positive development. One of the most challenging and frustrating aspects of TSC are seizures that cannot be effectively controlled by existing medications. New treatment options are desperately needed, and this approval adds another option for those impacted by this difficult disease."
This approval was long overdue and hopefully just the first step in a series of approvals for medication that can be used to help people who desperately need it. The War on Drugs has been a total failure, especially when it comes to marijuana, and we need leaders in American who will reverse the course of such damaging policy. Hopefully, with a new incoming administration, the government's long fought war on marijuana can come to an end.
In addition to relaxing the drug laws in America, there are several steps that can be taken which will be of great important to those suffering with life threatening illnesses. One of the biggest steps that needs to be taken is for the government to allow scientists and colleges with research programs to intensely study the effects of cannabinoids on the human body.
To date, there has been virtually no research done on how both THC, and CBD, the two most prominent cannabinoids in the cannabis plant, interact with the human body. However, what little research has been done, has shown that both compounds can absolutely work well and become the foundation of many life saving medications.
So now that we know what is possible, it is time to take the necessary steps to open up the research, provide grants, and allow the greatest minds in the world to engineer the medications we need to solve the quality of life issues facing many Americans today.