When the COVID-19 pandemic started, a lot of brick and mortar businesses had to temporarily close their doors. Along with businesses like bars and dance clubs, sex and swingers clubs also had to shut down. After all, maintaining social distancing at a sex club generally goes against the very purpose of the establishment.
Some stores and restaurants were able to re-open with safety measures in place or transitioned to delivery-based business models, but others couldn't survive the situation. We interviewed Rae Szereszewski, the event coordinator and engagement liaison at Toronto's Oasis Aqualounge, to learn about how one sex club managed to adapt.
"[Before the pandemic] Oasis was always a community space as well as a sex club," explains Szereszewski. "Each sex club has a different vibe. Some are more like dance clubs while others are all about getting straight to play. Oasis was different in that during the day it felt like a spa, and at night it felt like a house party."
In March, Oasis had to close shop based on requirements issued by Toronto Public Health. By August, Toronto had moved into Stage 3 of reopening, which allowed bars and clubs to reopen with certain safety measures in place. Many strip clubs and massage parlors re-opened, but the management at Oasis decided to keep the club closed.
"We want to do our part to help keep COVID numbers down, and a socially distanced Oasis is not really an oasis at all," says Szereszewski. "The whole point of a swingers club is to have fun big events where people can meet other people. The spirit of Oasis would not be there if we opened right now."
The club's owners decided to use the shutdown to renovate the Victorian downtown Toronto building that Oasis calls home. The developments included an upgrade to the heated outdoor pool for which the club is famous.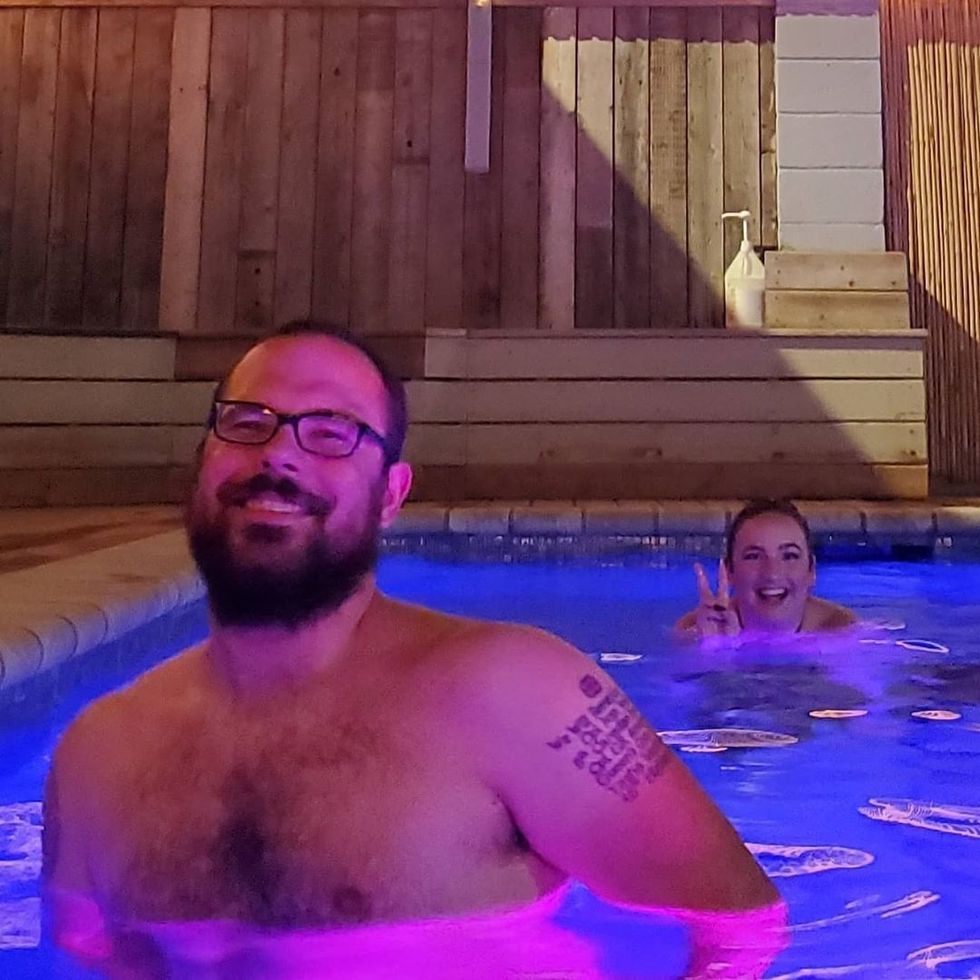 Oasis staff members in the renovated poolCredit: Aquaflirts
All this doesn't mean that the club ceased operations altogether. Online video conferencing, just as it presented a solution for schools and offices, has allowed sex clubs like Oasis to keep running events.
Zoom and other major video hosting services do not allow nudity or sex on their platforms. Fortunately, the Modern Lifestyle Platform, an event management program designed specifically for adult events, has no such restrictions.
This platform is able to echo what Oasis had been in "real life." A main chatroom acts like the club's first floor or pool, where guests can get to know each other, and then they can move their video conversations into smaller rooms or private chats. Nudity is not only accepted, but encouraged, although those who are shy can choose to keep their clothes on or their video cameras turned off.
When open, Oasis was always busy with events, from fetish parties and burlesque performances to game nights and naked yoga. Shortly after the pandemic hit, Szereszewski, who was responsible for running some of those events in real life, started running events online. Sometimes she streams from the empty club and other times from her own home.
"We run virtual sex parties and events 6 days a week. We try to make sure there is something for everyone!" she explains. "Some events are pure play parties, others are sex-focused with a show, and other events are more about making connections and new friends, or teaching an important skill [like painting nude models, pegging, or joint-rolling]."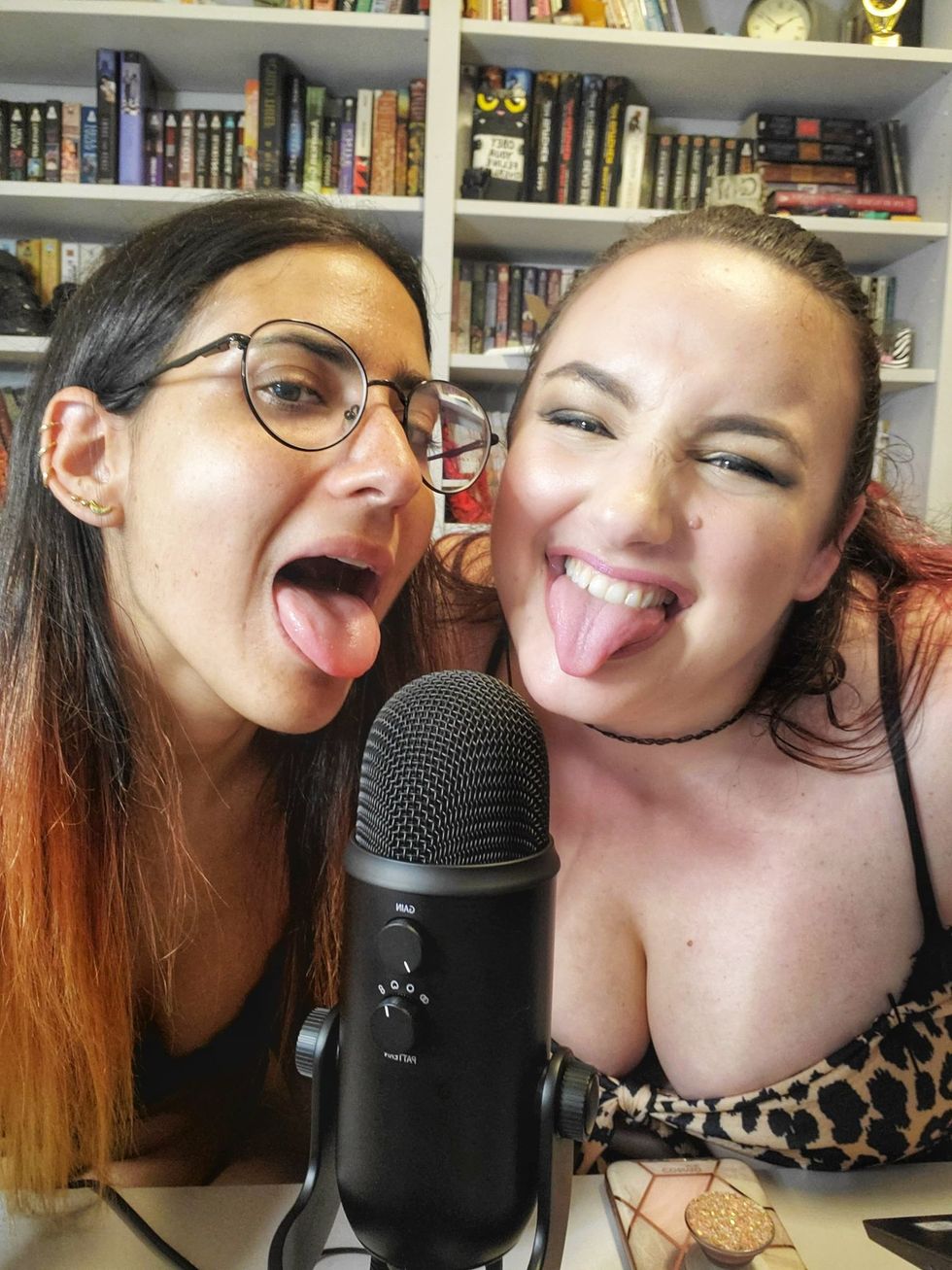 Oasis staff members Rae Szereszewski and Yael S. running online eventCredit: Aquaflirts
For Szereszewski, not too much has changed. "The work itself is almost the same, except all my socializing is online," she said. She doesn't mind the change too much, since the extra free time allows her to focus on her side projects like educational workshops, a podcast, and designing latex fetishwear.
This also gave her the opportunity to test drive events that wouldn't have been as easy to launch at the club. "We were able to pilot 'Frosh Week' - a back-to-school week of events I had wanted to run in-club that we managed to successfully test out virtually with almost no cost," she says.
Additionally, moving her work online has also provided unique social benefits at a time when most people are struggling to connect. Once a month, Oasis joins forces with other clubs like Le Boudoir in the UK and The Bodyshop in the US to run a big online "mega party" with attendees from all over the world.
"I have met some amazing people from the US and UK, as well as club regulars I had never met in the club itself. Being able to network with other club owners and lifestyle members from all over the world has been a truly unique and fun experience," Szereszewski added.
The future of the club is as uncertain as the future of many other businesses right now, but Szereszewski is optimistic. "I hope we all still exist when this is over!" she said. "I love Oasis, it's the place where I learned how to say no to people and really mean it, and a space where I was able to be fully myself. I know so many others who feel similarly. I genuinely hope that we all survive the pandemic and can re-open in a safe way."