There is no denying it: CBD is hotter than ever.
There are so many things that CBD products can help with. Aside from being a reliable sleep aid, CBD can provide relief for anxiety, depression, and post-traumatic stress disorder. In "nonpsychoactive" blends, CBD oil is THC-free, and it won't get you high, or give you the munchies, but you'll be able to get all the health benefits that come from marijuana.
But with an endless array of CBD brands out there, how can you be sure you're getting the highest quality? A lot of the lower-budget CBD brands cut their CBD with olive oil or other additives, diluting their effects. You don't want that! So that's why at FindKarma we recommend CBD for Life.
CBD For Life should be considered merely because it is one of the OG CBD-infused wellness brands that kickstarted the whole movement. Launched five years ago, CBD For Life and its founder, Beth, knew early on about the health benefits that come from using CBD oil. So they set out on a mission: to craft the highest quality CBD products to help users look, feel, and act like their best selves, mixing soothing essential oils with plant-based actives to help soothe and comfort you.
So what is at your disposal? CBD For Life offers rub-on ointments, sprays, hand sanitizers, and even bath bombs. That's right, bath bombs. They come in Lemongrass Kiwi, Eucalyptus and Peppermint, even Fresh Bamboo. Or, you could even get a combo pack and try them all out.
They also offer a wide array of beauty products. For example, the Eye Serum is lightweight and fast-absorbing, blending phytonutrient-rich CBD with plant extracts to help your skin smooth, soften and brighten. Or maybe you want some foot cream, in which case why not get foot cream infused with CBD? Or pick up a tube of their hand and body lotion to keep your skin moisturized and healthy.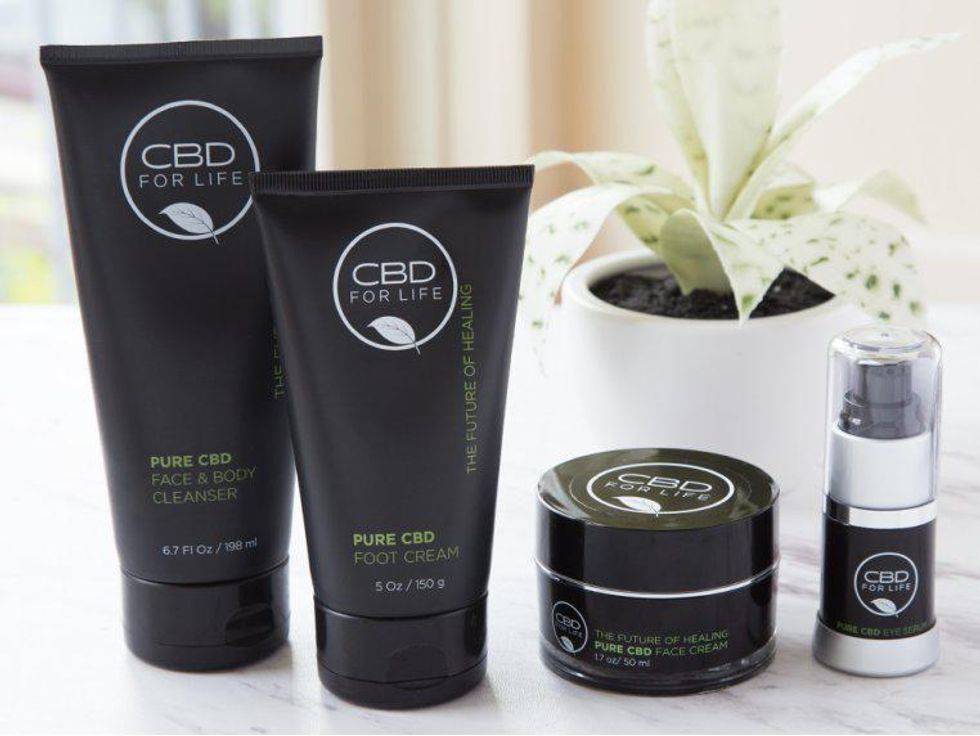 CBD For Life
But how do we know that all of these CBD products are even safe, let alone work?
It's true that the performance of each of these magnificent products relies strictly on the purity and potency of CBD For Life's CBD. But fret not — The company performs extensive testing at every stage of the development of a product. CBD For Life's independent ISO/IEC accredited third-party lab tests for potency, microbial, heavy metals, and pesticides to make sure that the CBD going into their goods is of the highest and purest quality.
The final tests results performed on your goods can also be accessed. All you need to do is locate the batch number that's stamped at the bottom of CBD For Life's jars, or on the crimps of their tubs, and match them with the corresponding number located on their website.
Keeping safety in mind? Where does the company's CBD even come from? Pulled from hemp grown on a USDA-certified farm in Colorado that relies on sustainable farming practices. CBD For Life has a longstanding relationship with that farm, and the company has maintained a healthy and fulfilling relationship with them since their early days.
So why are you waiting any longer to hop on the CBD bandwagon? There are so many reasons why you should find a CBD brand that's right for you. As one of the longstanding pioneers in the industry, CBD For Life remains a go-to for countless CBD users, and is responsible for kickstarting a movement that has only grown in size and in popularity.
Check out their goods at CBD For Life's website here.