If you are still looking for the perfect Valentine's Day gift this year, check out our list of the top 5 best CBD products. There is still time to order and get delivery of your present before the holiday, but the window is closing quickly!
Why CBD?

CBD is truly remarkable, especially when it comes to its ability to interact with the body, and the synergistic effect it has on the endocannabinoid system. While companies have found numerous ways to harness its power, one of the most popular uses for CBD can be found in skincare products.
Research has shown that CBD has significant anti-inflammatory and restorative properties when applied to the skin as a topical, which has led to a multibillion dollar industry since the 2018 farm bill basically legalized hemp and the use of CBD in over-the-counter products.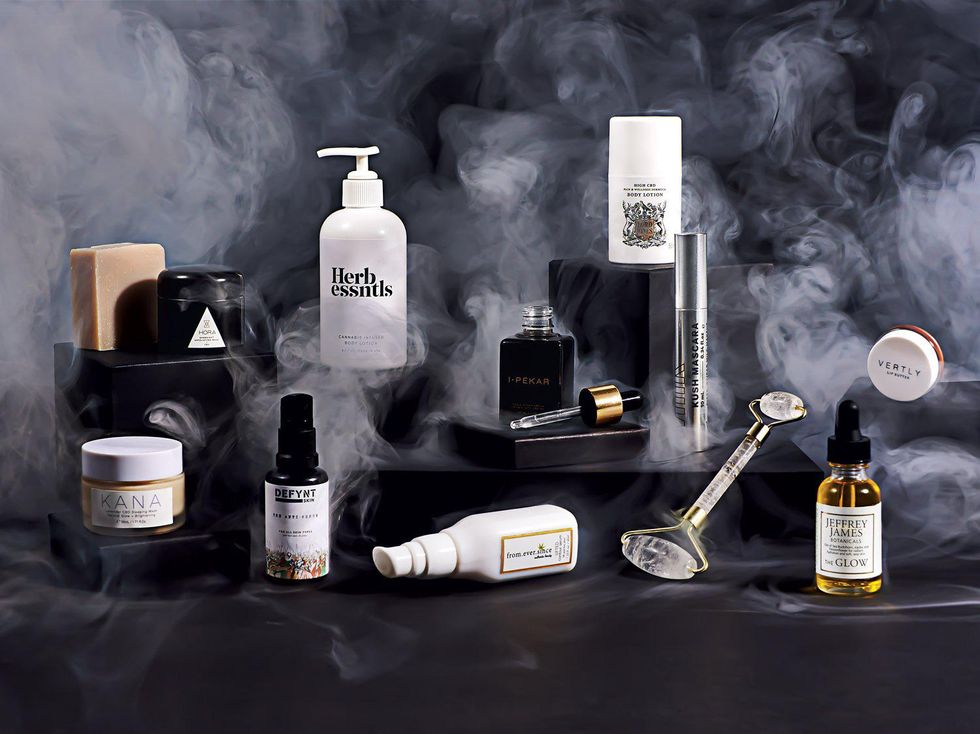 CBD Skincare Products 2021
It has only been 2 years since the federal government relaxed the rules governing the production of hemp but there are already more products on the market than you would ever be able to try yourself, literally tens of thousands. Searching for the perfect gift for your loved one can be complicated because of the amount of choices and you must do your research before your make a purchase!
What To Look For In a CBD Product?
Once you have made the decision to buy something that is infused with CBD, there are certain things you should keep in mind before you actually make a purchase. In order to avoid buying a subpar product from a shady company you should try to follow our suggestions listed below.
Avoid any product that makes a claim! (ex. medical claims, 'cures' etc)
Avoid any product that doesn't have a QR code on package (used to verify the ingredients and authenticity of product)
Do choose a product that is 'Free' (cruelty free, fragrance free, sulfate free etc)
Choose a product with a verifiable website, social media accounts & detailed product info
Top 5 CBD Gifts for Valentine's Day 2021
Life Elements CBD Venus Bath Bomb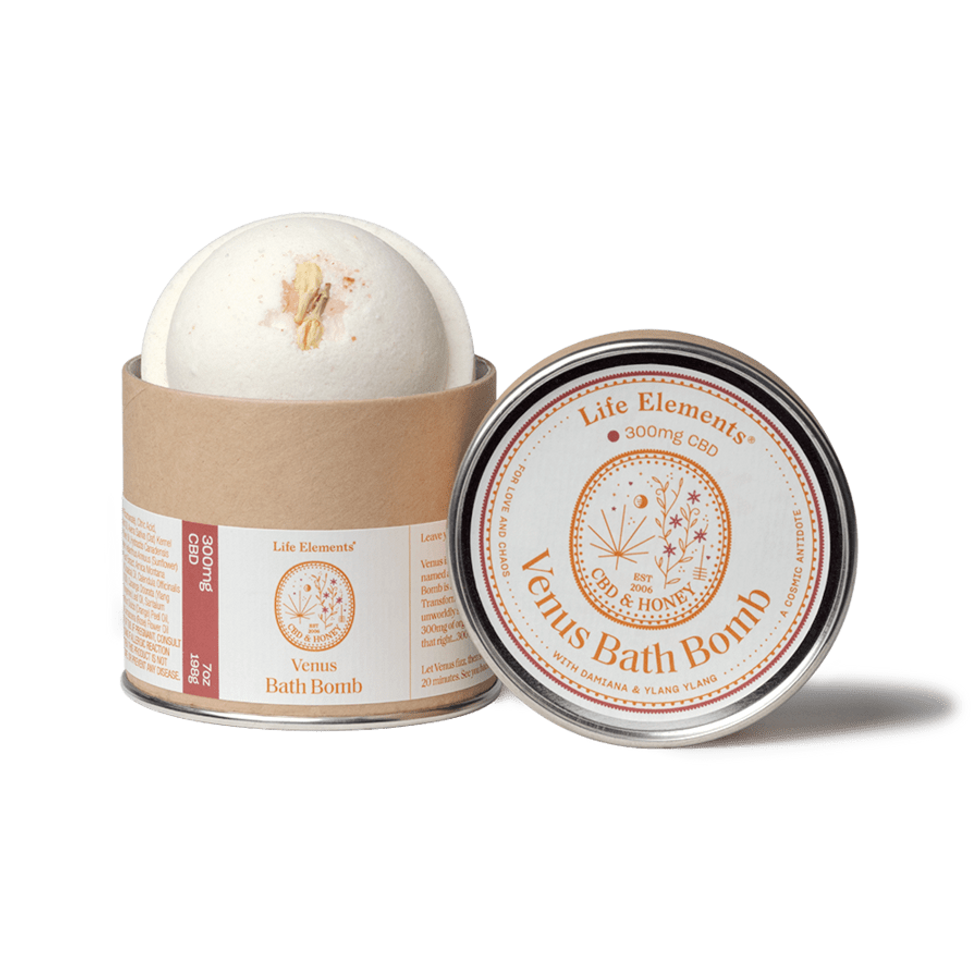 Life Elements CBD Venus Bath Bomb
This 300mg CBD Infused bath bomb is $28 and can be purchased directly from their website here.
Most Popular Uses include:

Sore muscles
Dry Skin
Tension
Inflammation
Stress
Cramps
Tightness
Chronic Pain
VALENTINE'S DAY SPECIAL: Get 15% of Life Elements Body Oil with purchase of this bath bomb.
You can also subscribe & save 10% buy setting up regular shipments on this item.
Bloom Farms Valentine's Day Gift Bundle - For Him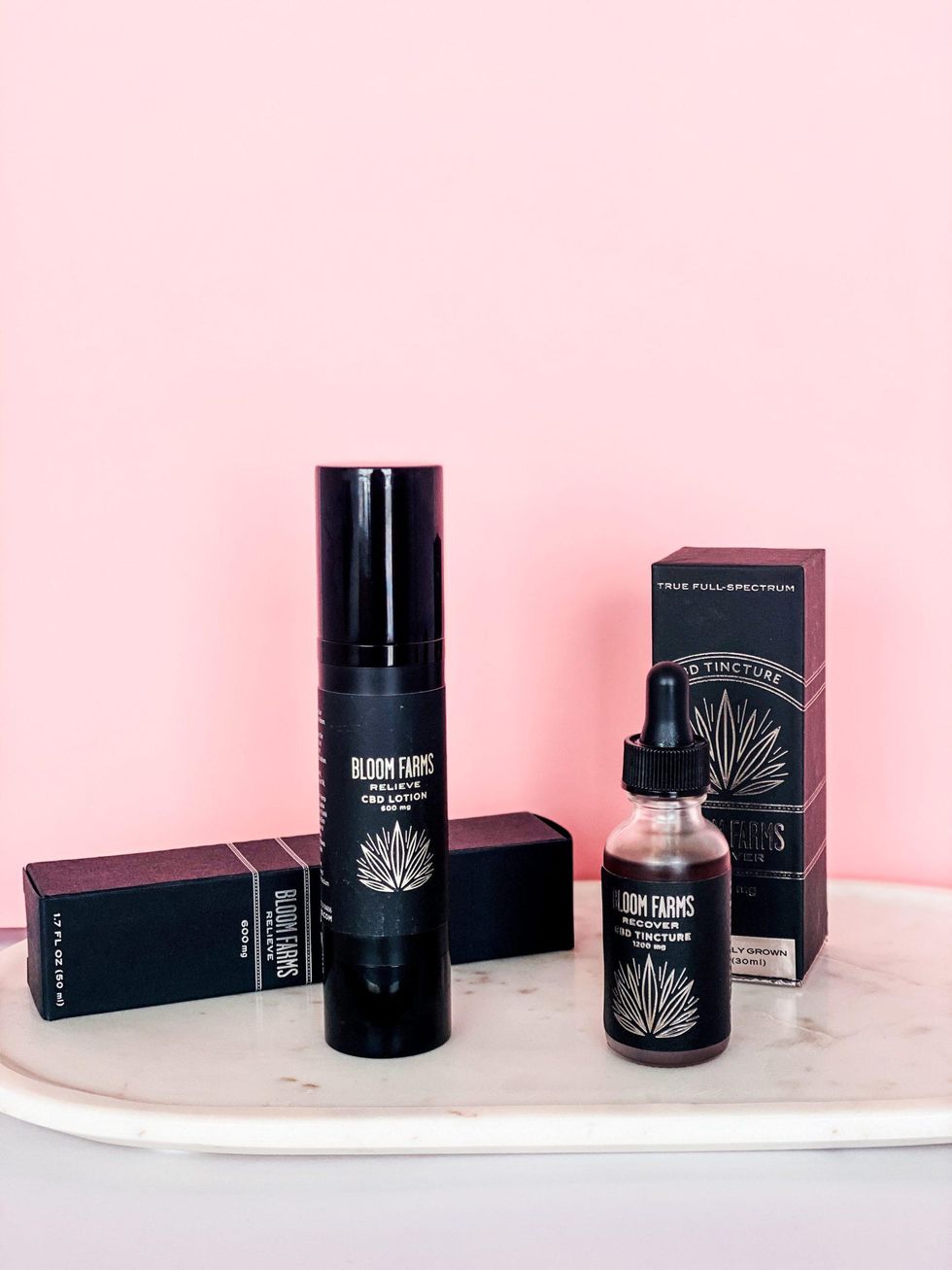 Bloom Farms Valentines Day CBD Bundle
Bloom Farms has quickly risen to the top of the CBD market. This California company curates some of the finest, highest quality CBD in the world and that level of superiority can be found in their product lines.
For Valentine's day this year, try this CBD bundle that includes the following items:

Bloom Farms Recover Tincture (1200mg) Formulated with 1200mg full spectrum CBD and MCT oil.
Bloom Farms Relieve Lotion (600mg) made with 600mg broad spectrum CBD and other botanical essential oils such as Rosemary, Lavender, Jojoba and more!
On sale today for $120, this package from Bloom farms normally retails for $150.
You can purchase this set and more by clicking the following link.
Lord Jones Valentine's Day Hemp Derived CBD Gumdrops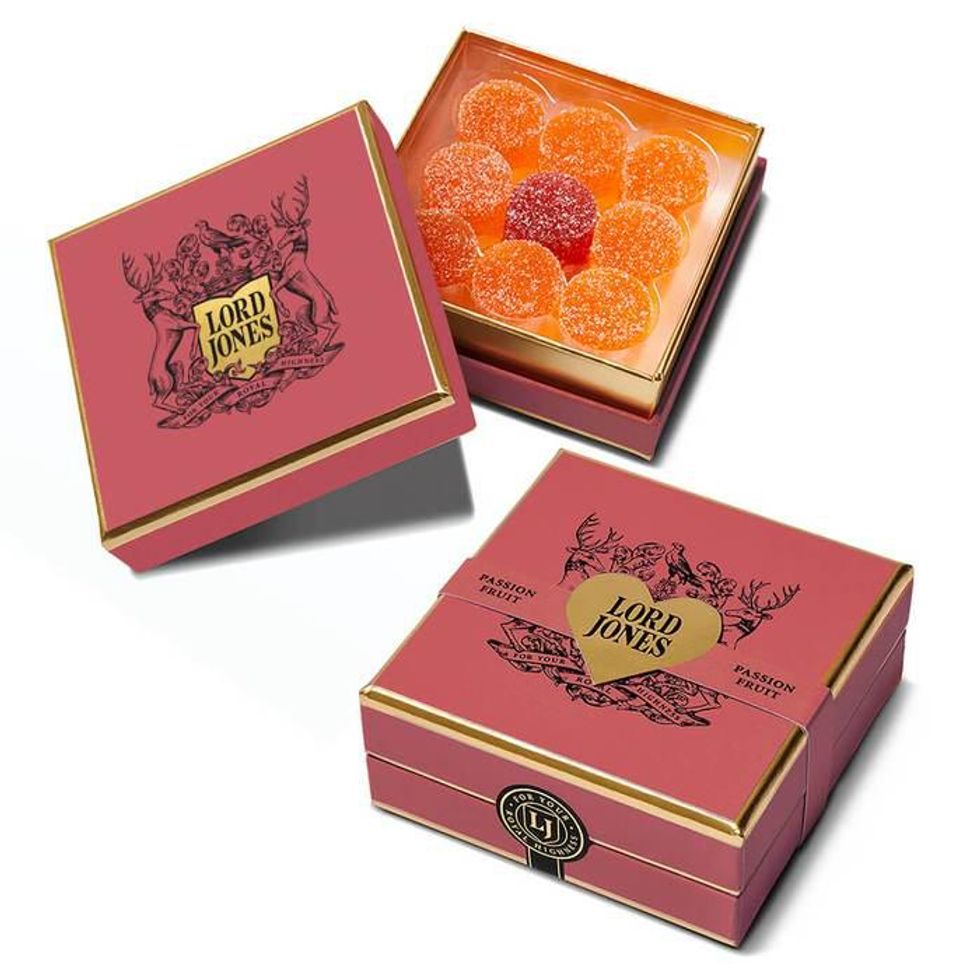 Lord Jones Valentines Day CBD Gumdrops
"Set the mood for love with our sweet and lightly tart Passion Fruit Gumdrops, featuring a single Red Raspberry Gumdrop for a romantic surprise. Each handcrafted gumdrop is infused with 20mg of the finest broad spectrum hemp-derived CBD."
20mg CBD per gumdrop, 9 count per box
Helps promote a calm sense of well-being
Handmade in small batches with natural fruit flavors
Broad spectrum hemp-derived CBD sourced from select hemp cultivated in the U.S.A.
Lab tested for purity and consistency
Store at room temperature
Free Standard Shipping in the U.S.A.
This is a LIMITED EDITION flavor available through February 28th (while supplies last)
*These products/statements have not been evaluated or approved by the Food and Drug Administration. This product is not intended to diagnose, treat, cure or prevent any illness.
You can purchase this product directly from Lord Jones by clicking the following
link.
Maude 'The Tub Kit'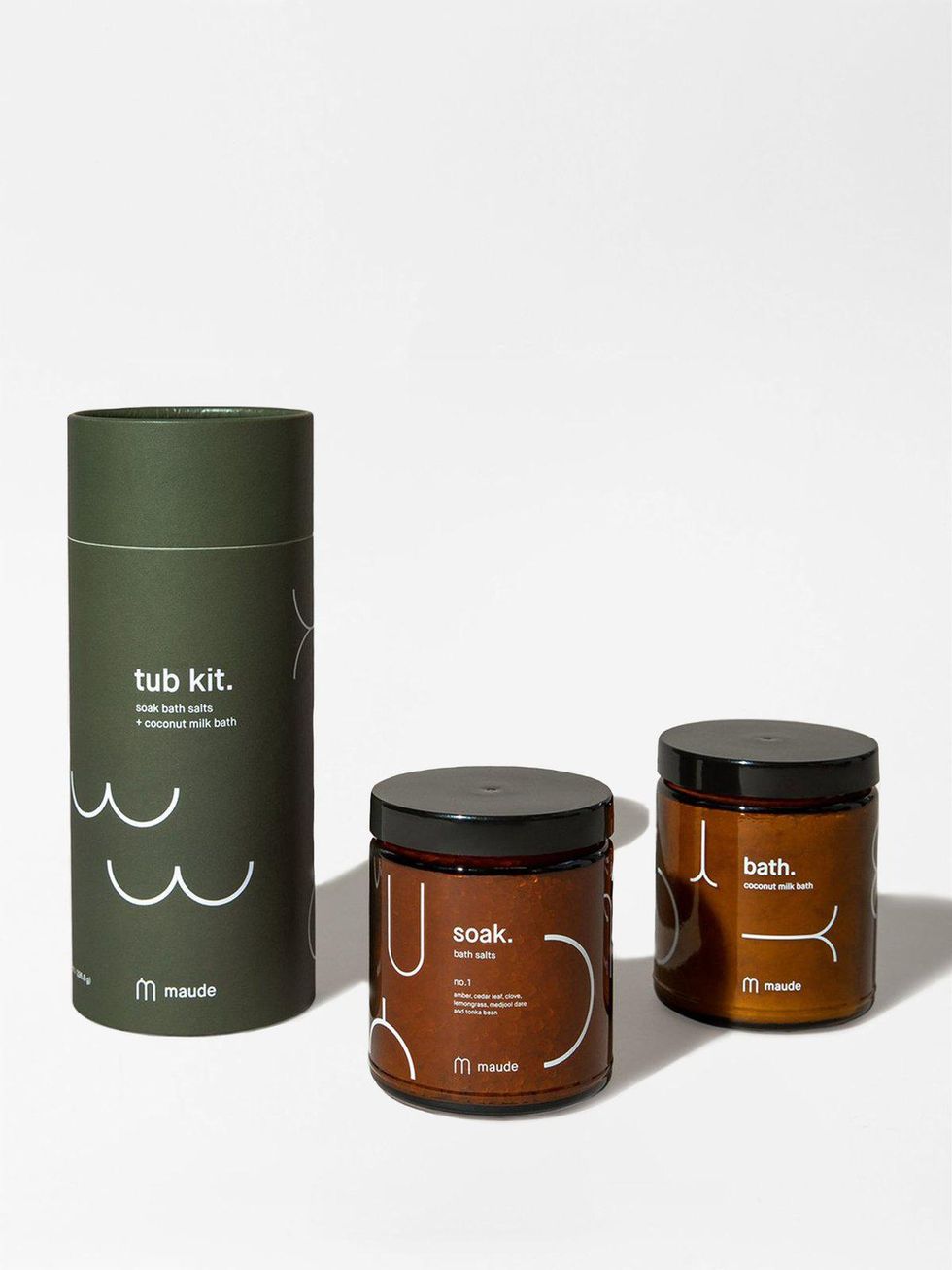 If you or your loved one are big fans of bath time, this Tub kit is sure to be a winner for Valentine's Day!
These hand-harvested blends infuse water with nourishing vitamins and minerals.
The following items are included in this kit:
Soak Bath Salts (1x 8oz jar)
Coconut Milk Bath (1x 8oz jar)
How To Use
Swirl a handful in warm water until absorbed and then soak for 20 minutes.
You can purchase this set for $32 from the Standard Dose shop by clicking the following link.
Potli Hemp Infused Raw Honey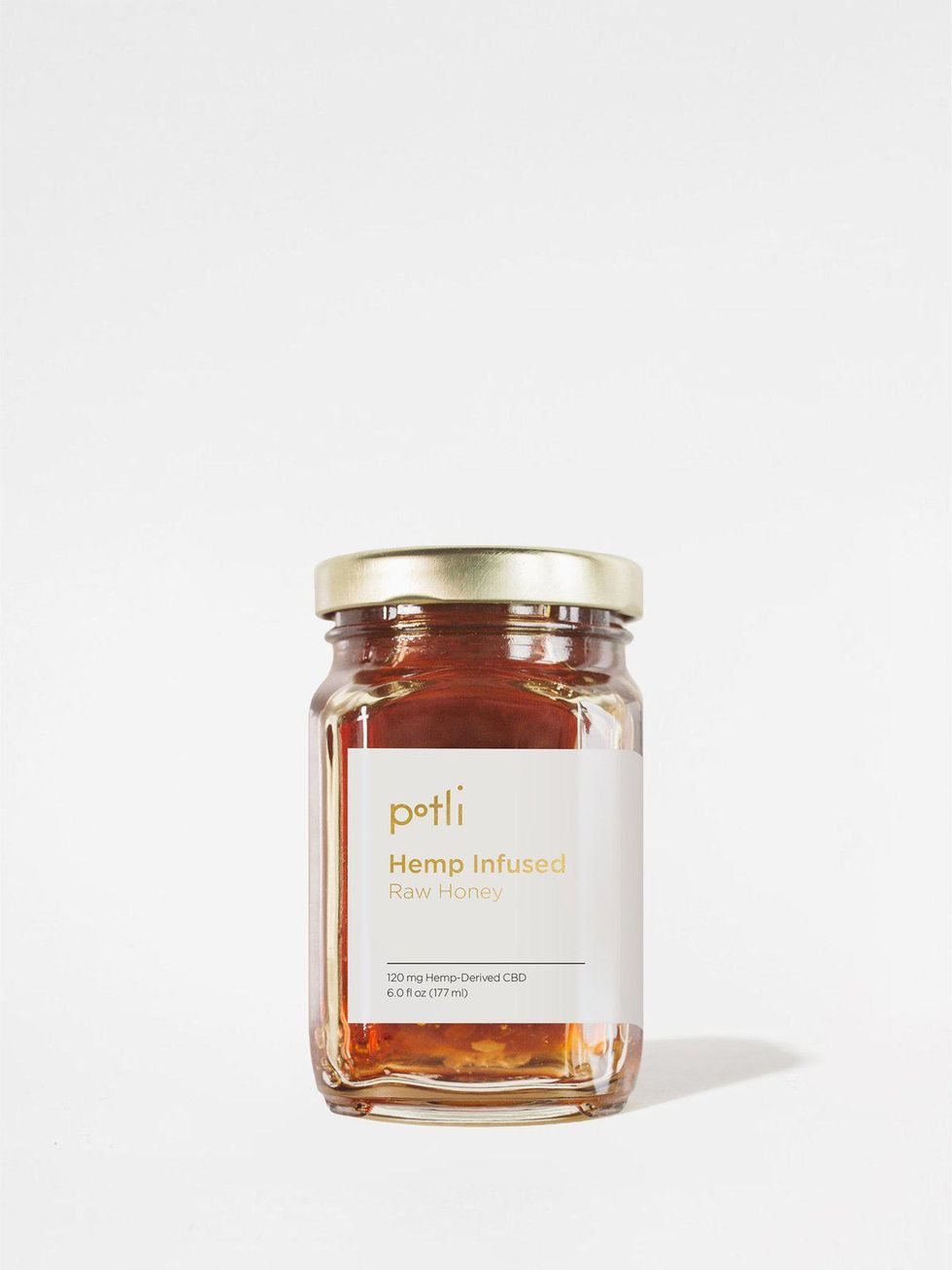 Potli Hemp Infused Raw Honey
This raw wildflower honey is hand-harvested in San Francisco and is the perfect addition to bedtime tea or anything that needs a sweetener. Infused with CBD, use this honey to ease the body and mind.
Each 6oz jar comes infused with 120mg of premium CBD and retails for $42.
You can purchase this item from the Standard Dose shop by clicking the following link.