Burt's Bees products are everywhere, from shoe store checkout lines to gas stations to every pharmacy imaginable.
They're always easy to spot in their distinct yellow packaging, and they tend to sit apart from the rest. With their spicy, stinging quality, they feel unlike any other makeup product, too.
But during all those times you rubbed their peppermint-infused chapstickon in order to feel its strangely refreshing tingle, have you ever wondered: Who is the eponymous Burt who started it all?
Burt is actually Ingram Berg Shaviz. Born in Manhattan to a Jewish family, Burt was raised in Great Neck, New York. In his early life he was in the military and then spent time as a photojournalist in New York City, documenting drug culture in the Bowery, beat poets, Malcolm X-led rallies, protests, and other facets of New York City life.
Eventually, though, Shaviz began to grow fearful of growing old in a small apartment in Manhattan, and so he did what any aging hippie tiring of the big city life does: He applied for an arts grant and moved upstate.
"In 1970, Burt threw his mattress in his Volkswagen van and, along with a few buddies, drove upstate to the High Falls, New York, area. After a series of heavy rainstorms, Burt decided to drive around and survey the damage. He stumbled upon a swarm of bees on a fencepost," reads an article from The Daily Beast.
'The year before, a guy that I'd been buying honey from, who was a beekeeper, had given me everything I needed to be a beekeeper except the bees — a hive, a mask, gloves, a smoker, a hive tool, everything," Burt told the outlet. "So, there was this fencepost, and I said, 'My lord, this is an act of God! I can't turn this down.'"
Eventually, Shavitz defected to Dover-Foxcroft, Maine, where he took up beekeeping. He began using the wax to make lip balm, honey, and other products, which he sold at a popular roadside stand. He labeled his products "Burt's Bees" to prevent them from being stolen, and the name, obviously, stuck.

One day, he picked up a hitchhiker named Roxane Quimby. The two hit it off and eventually fell in love. Quimby was also fleeing a busy city — she had been working as an artist in San Francisco. In Maine, she was living as a single mother and a back-to-lander.
Together, Shavitz and Quimby created what would become Burt's Bees. But though the company blossomed, things weren't all smooth sailing.
In 1994, the pair moved to Burt's Bees' corporate headquarters in North Carolina, where it boomed. Shavitz was eventually ousted from the company, apparently because of an affair he had with a Burt's Bees shopkeep employee. Initially, he blamed Quimby for his ousting, saying, "Roxanne Quimby wanted money and power, and I was just a pillar on the way to that success."
Quimby eventually sold the company to Clorox for $900 million. After leaving the company, Shavitz lived in a house in Maine with no water, where he spent his days watching foxes and moose pass by.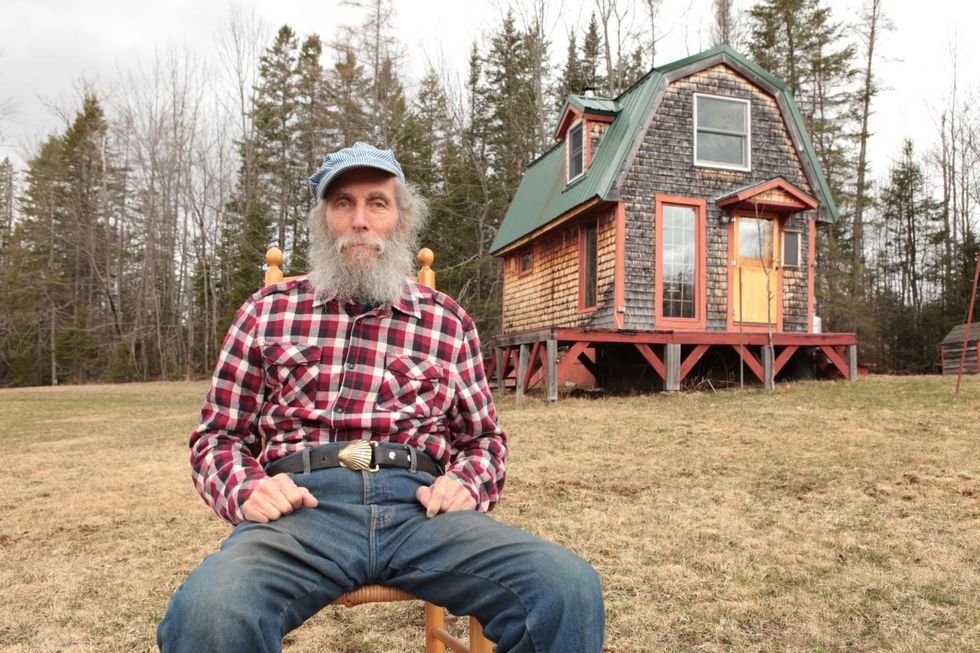 Burt of Burt's BeesLos Angeles Times
"I had no desire to be an upward-mobile-rising yuppie with a trophy wife, a trophy house, a trophy car. I wasn't looking for any of those things. I already had what I wanted," he said in the documentary Burt's Buzz, made about his life. "No one has ever accused me of being ambitious." Later in the documentary, he said, "A good day ... is when no one shows up and you don't have to go anywhere."

But regardless of his ambitions, Shavitz's small-town eccentricity and crunchy hermit energy has certainly been a winning sales pitch for one of the most successful personal care products on the market.

Shavitz passed away in 2015. "Burt and I shared a long and unique journey through many years and probably many lifetimes together and apart," Quimby said upon Shavitz's death. "I don't assume that his passing marks the end of that journey."

Fortunately, she won't have to look far to see him; his face, plastered on the products they built, will be in every drugstore for the rest of time.