It's no secret that CBD is the new trendy ingredient in the wellness space today. From CBD infused edible candy all the way to moisturizer and anti-aging serum, you can find CBD infused products across all categories.
There is truly something for everyone! However, one thing that can't be overstated enough is the simple fact that the consumer needs to be wary of this industry, in general, and should do proper research before ingesting any CBD for the first time. Google is your friend, use it!
The truth is that while there are definitely good companies making high quality products that do what they claim, the overwhelming majority of the rest leave much to be desired and, in some cases, are producing products that do not work at all.
The sad part is that people will still buy them because they don't know any better and haven't taken the time to understand the basics. It is our job at FindKarma to educate the masses and make sure that you have enough of the right information to make an informed decision about how and why you choose to use cannabinoids.
Remember, there is very little regulation or oversight in this industry. As long as the product contains less than a certain amount of THC (0.3%), it can be sold. No one is checking to see what ingredients are actually present in the products and it is up to you to do the heavy lifting.
Why Are Cannabinoids Good For The Body?

In order to truly understand why CBD has become so popular, you must have an understanding as to how it works in the body and why so many companies have built their business around products infused with the compound.
Make no mistake about it, humans were meant to consume cannabinoids like CBD and THC, and have been doing so since the first man walked the earth. Our bodies have an extensive endocannabinoid system which is responsible for regulating the processes of some of the most body's most vital functions like sleep, memory and mood! It is even thought to be involved with human reproduction and fertility.
As far as skin care is concerned, some of the biggest names in the beauty industry have spent billions of dollars studying cannabinoids. Their research has shown that CBD has the ability to combat dry skin, lessen dark circles around the eyes, as well as contain significant anti-aging properties. These are just a few of the reasons to help explain its sudden spike in popularity in the wellness industry.
Here is a simple but effective chart that shows how CBD interacts with the human body!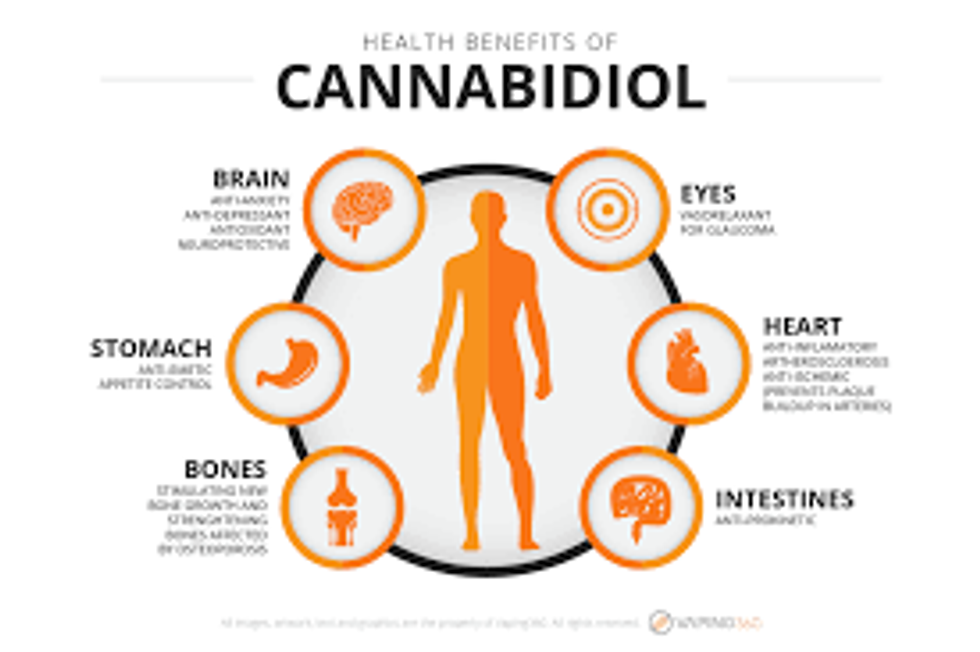 Health Benefits of CBDVaping 360
As you can see, cannabidiol, also known as CBD, has health benefits that directly impact many different parts of the body. Here are the actions that CBD has been found to take:
Brain - CBD acts as a neuroprotectant (reduction of tension in the eye's blood vessels) and has anti-anxiety, anti-depressant and antioxidant properties.

Stomach - In the stomach, CBD acts as an anti-emetic (anti-nausea), and also plays a role in regulating appetite control in the body.

Bones - CBD has been found to stimulate new bone growth and can help strengthen bones that have been negatively impacted by osteoporosis (a disease most commonly diagnosed in post menopausal women).

Eyes - CBD acts as a vasorelaxant, which can be beneficial in treating the symptoms of glaucoma (one of the reasons behind the old joke of needing marijuana to treat glaucoma).

Heart - CBD has shown to have numerous beneficial actions on the heart, which include an being anti-inflammatory, combating the symptoms of atherosclerosis, and stimulating an anti-ischemic response (preventing plaque buildup in the arteries).

Intestines - Within the intestines, CBD acts as an anti-prokinetic (reduces small intestine contractions), which helps prevent recurrence of acid reflux.

Why Add CBD To Skin Care Products?

Let's focus on the benefits that CBD has to offer relating to your skin and why every skin care company on the planet is racing to produce CBD infused product lines.
Without a doubt, CBD's anti-inflammatory properties are the most valuable when it comes to protecting and repairing damaged skin.
CBD minimizes inflammation and redness
Reduces acne
Smooths over fine lines and wrinkles
Repairs sun damage
Brightens and tightens skin
Soothes skin sensitivity
Helps treat Eczema, Rosacea and Psoriasis
Hydrates and balances out moisture levels
Promotes collagen production.
CBD products are said to be effective for all skin types, including acne prone and will aid in inflammation reduction. Most importantly, CBD has been found to be somewhat of a miracle for those who suffer from sensitive skin.
What About People With Sensitive Skin?

Sensitive skin is caused by tiny breaks in the natural barrier properties that our skin provides. For most of us, when we are young this barrier provides great protection from the elements all while keeping the skin looking moist, uniform and healthy. Over the years, both age and exposure to the sun, pollution, and allergens cause the lipids and structures responsible for maintaining this function to break down.
Consumers with sensitive skin will notice even earlier that they have dry, red, irritated skin all the time. CBD, along with ceramides and other barrier restoring technology, can reverse this process and help everyone to have strong great looking skin again. This is what beauty companies found out and have been racing ti capitalize on since the Farm bill was passed in 2018.

How Does the Endocannabinoid System Fit In?

It wasn't until very recently (mid 1990's) that scientists first identified the existence of the endocannabinoid system in the human body. Even though there is still a ton more to learn about what exactly its function is and how it works throughout the body, there are some facts we do know.
The endocannabinoid system (ECS) is made up of three parts, which include endocannabinoids, enzymes and receptors. Research has shown that the ECS is responsible for regulating certain processes and functions of the human body and that one of its primary purposes seems to be helping maintain homeostasis.
ECS are produced by the body on as needed basis, one of the reasons it has been difficult for researchers to determine specific levels of them in a given person.
There are two main endocannabinoid receptors in the body, CB1 and CB2.
CB1 receptors can be found in/ or around the central nervous system.
CB2 receptors can be found in/or near the peripheral nervous system, like what you would expect to see near immune cells.
How Do Endocannabinoids Work In The Body?

By binding to one of the two main endocannabinoid receptors, CB1 or CB2, these endocannabinoids can help achieve a specific function. For example, if an endocannabinoid binds to a CB1 receptor, it could directly impact the central nervous system and reduce pain signals being sent to the brain. This discovery has led to the creation of many CBD infused pain creams, pills and other forms of the compound that are available for purchase today.
The science behind the endocannabinoid is complex and still evolving, but the results so far have been very promising and it is no stretch of the imagination to believe we will have important, life-saving cannabinoid based medications on the market in the future.
Now On To The Main Event, FindKarma's Top CBD Beauty Product List Of 2020

Now that we have taken a dive into the science behind CBD, let's take a look at the most popular infused beauty products that have been selling like hot cakes all year!
Lord Jones High CBD Body Lotion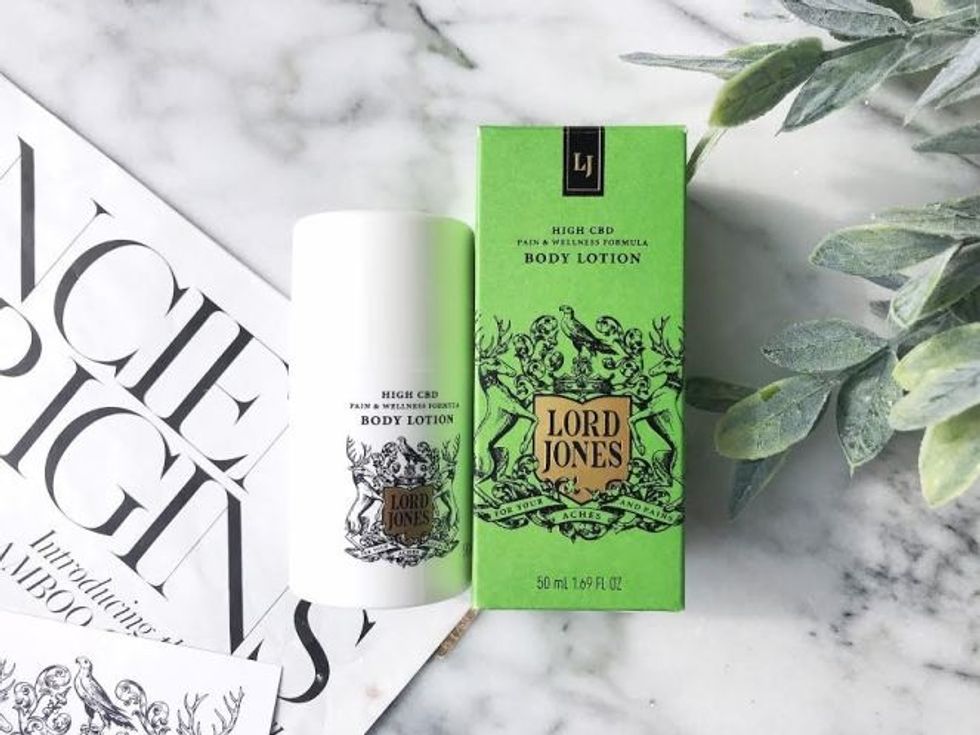 High CBD Body LotionLord Jones
This high CBD lotion is a 'cooling, restorative body lotion that effectively soothes and calms sensitive skin. Consumers choose this product when dealing with excessive dryness, redness and the need to reduce stressed out skin.

Contains 100mg of high quality CBD
Qualifies to be part of "Clean at Sephora", meaning it has been formulated without using any of the 50 ingredients determined to be detrimental to the body. Some of these ingredients include parabens, phthalates and sulfates.
Available fragrance free, or with the signature fragrance of Lord Jones products.
Delivers 2mg of CBD 'per pump' and can be used throughout the course of the day.
You can purchase this product directly from Lord Jones by clicking this
link.
Herbivore Emerald CBD + Adaptogens Deep Moisture Glow Oil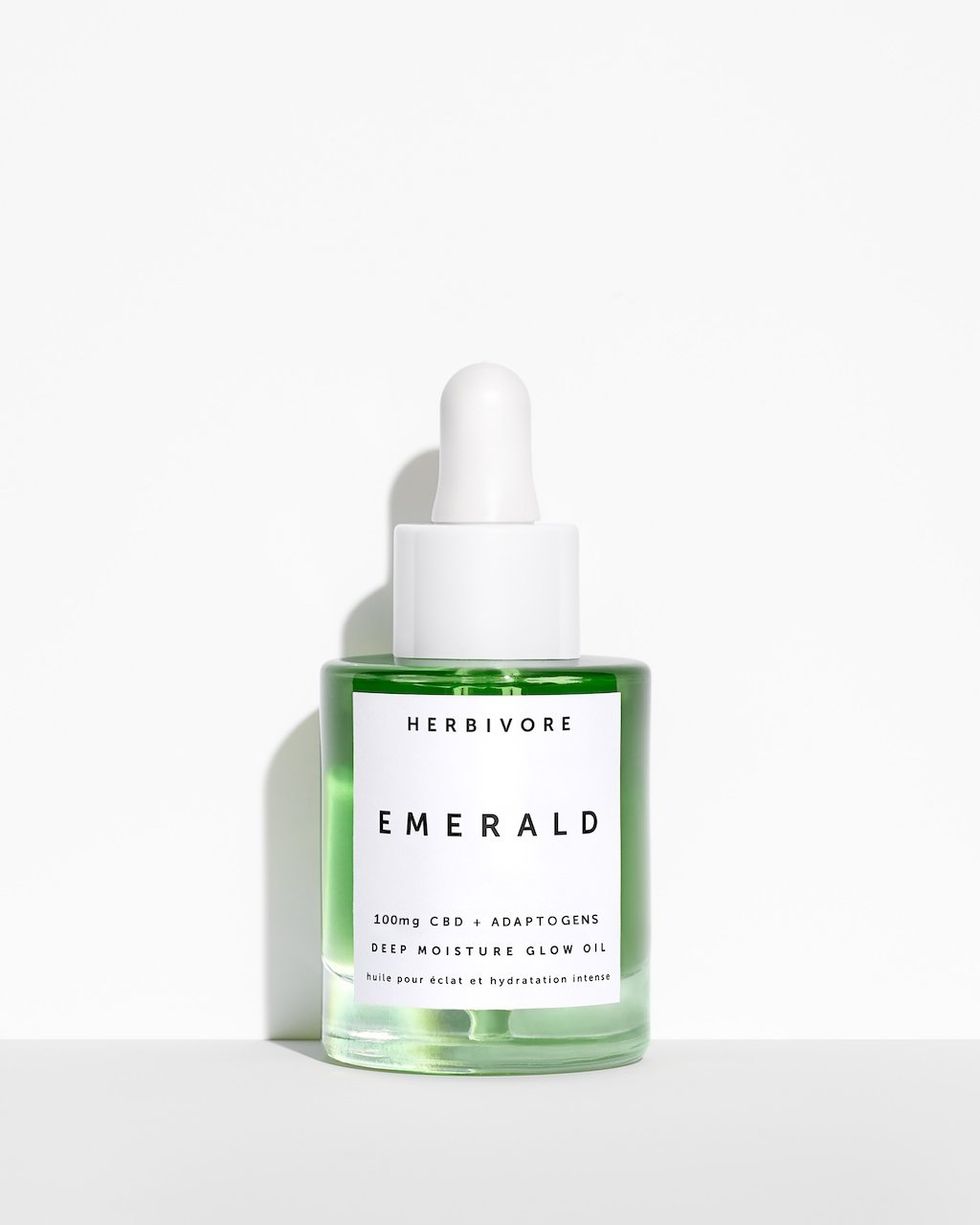 Herbivore Emerald CBD + Adaptogens Deep Moisture Glow OIlHerbivore
Emerald CBD oil contains premium organic Colorado-grown full-spectrum CBD to soothe stressed out skin in need of calm and relief from redness, irritation, and environmental stressors.
Who should use this product? Anyone dealing with dry, sensitive, stressed out, irritated skin in need of soothing deep moisture and redness relief (reed in full here!)
Warning: This product is NOT fragrance free, and comes with a traditional cannabis smell. So if you do not like the smell of cannabis, or are strictly fragrance-free when it comes to your skin care products, this is not the product for you!.
This product can be purchased directly from Herbivore here.
Hora Skin Care Super Serum + CBD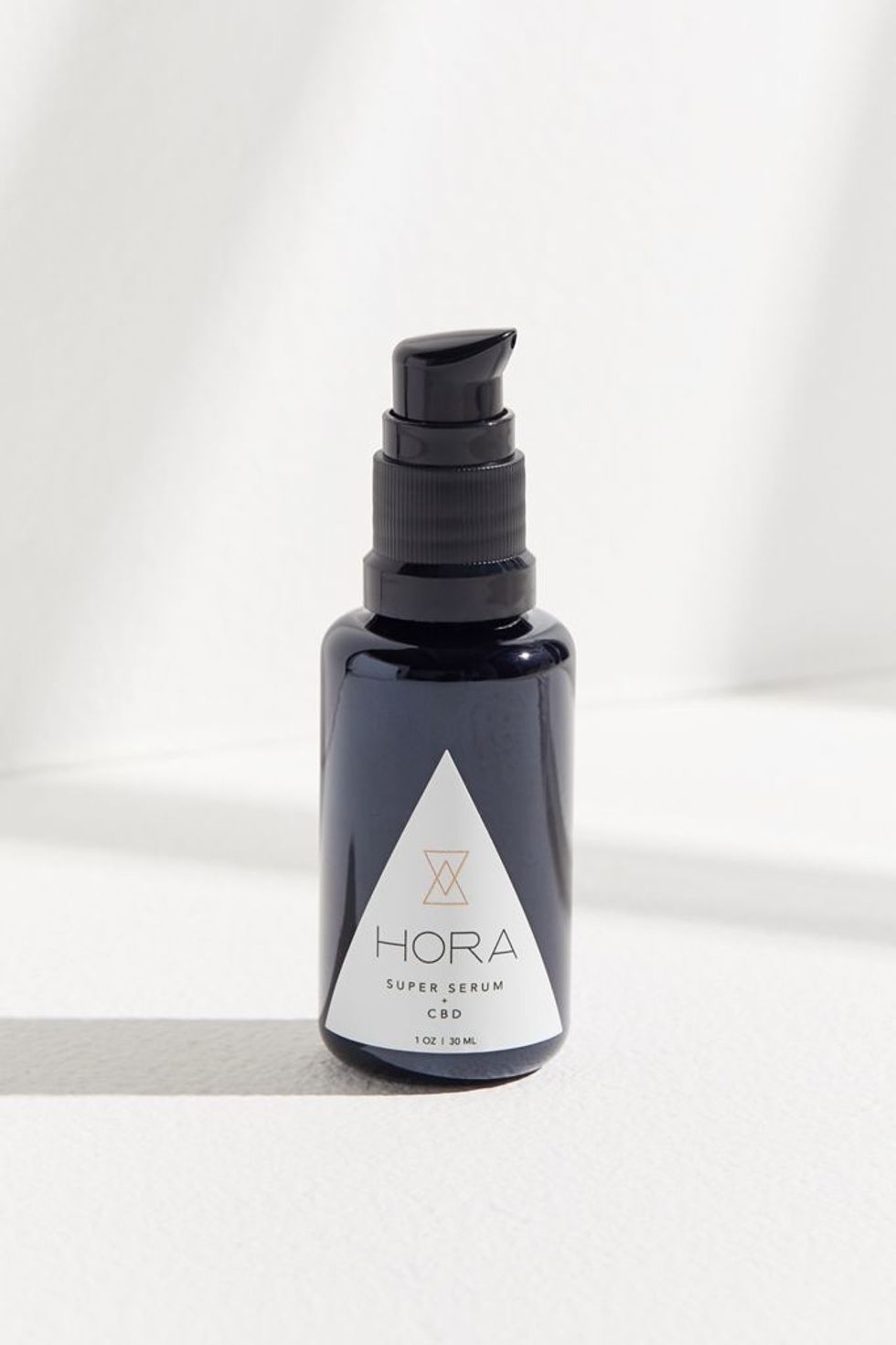 Hora Skin Care Super Serum + CBDHora Skin Care
This CBD infused facial serum contains marine collagen, rosehip + argan, vitamins A, B3, C, as well as hyaluronic acid and of course, CBD!
With daily use of this serum, you can hydrate and protect your skin with ease.
Keeping in line with the trends of 2020, this serum is free of sulfates, phthalates, parabens and is also fragrance free. All Hora skin care products are cruelty free.
Each bottle of serum contains 250mg of pure CBD
Directions: Apply small amount to clean, dry face morning + night. Can be applied to wet hair for silky finish.
You can buy this product directly from Hora using this here.
Khus + Khus Sen Face Serum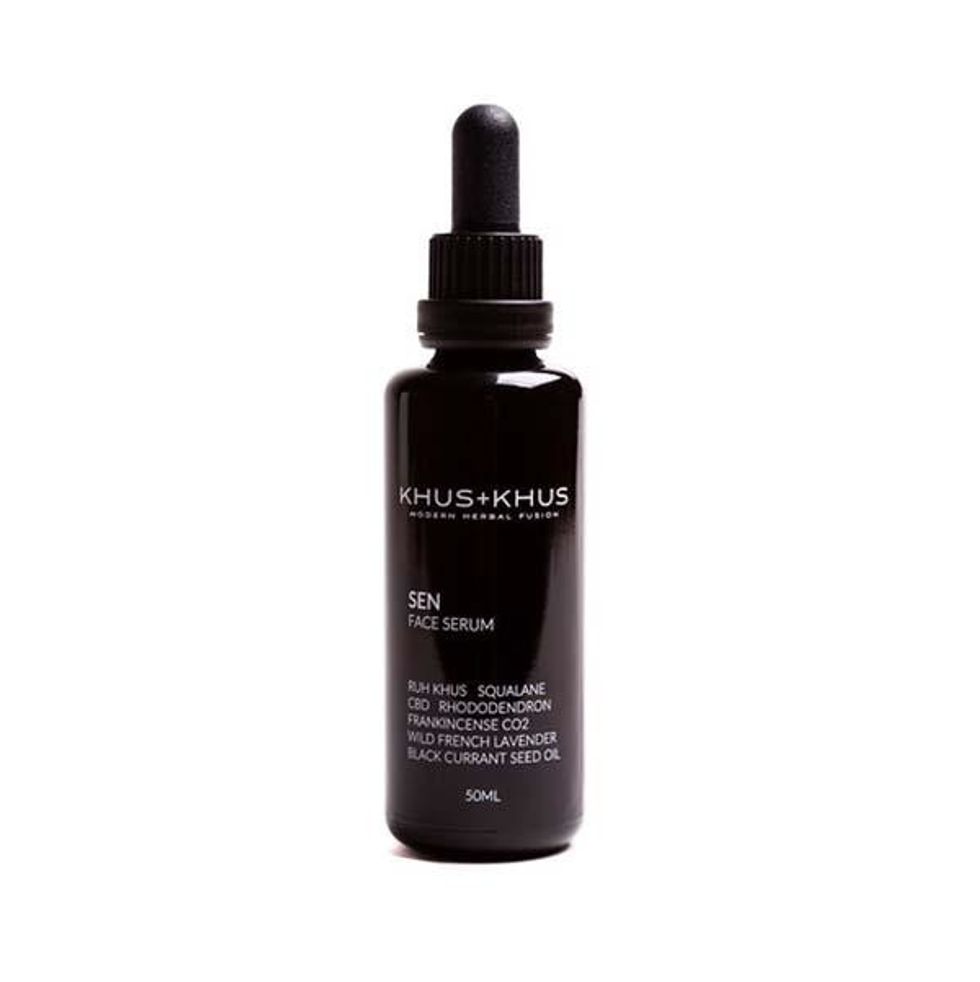 Khus + Khus Face SerumKhus + Khus
Khus + Khus Sen Face Serum is a plant oil rich face serum is good for all skin types and comes in a 1/7oz (50ml) bottle.

"This unique formula combines the remarkable 125mg of endocannabinoid hemp extract with highly regarded Ayurvedic and Western botanicals and resins for optimal skin nutrition."
Skin Challenges: acne, inflammation, dry skin, fine lines, pigmentation issues, highly restorative ideal for activating balance.
Botanical Therapeutic Actions: antioxidant, restorative, anti-inflammatory, adaptogen, lymph mover, liver tonic.
Use: Add a small amount to the back of hand apply to forehead, chin, cheeks, neck, spread evenly, morning + night.

You can buy this product directly from Khus + Khus here.
Sagely Naturals Relief & Recovery Cream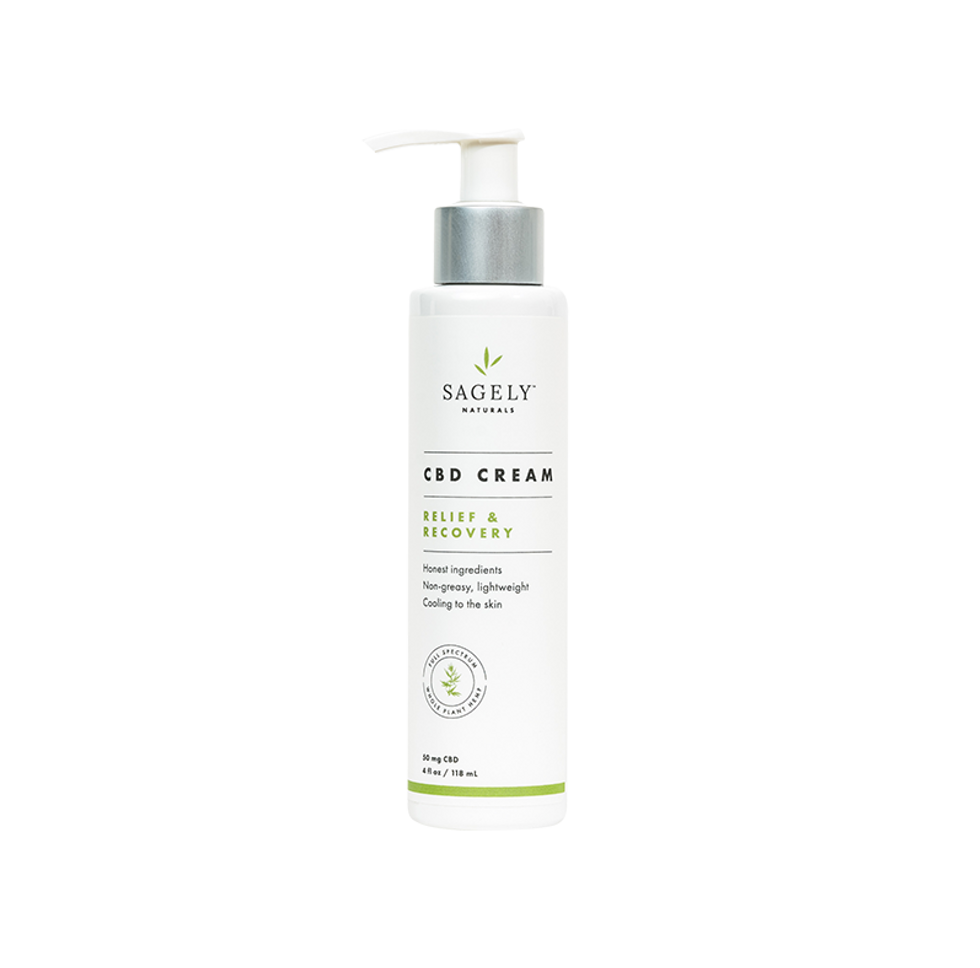 Sagely Naturals Relief & Recovery CBD CreamSagely Naturals
Cooling relief is a deeply nourishing and luxurious skin cream. Our Relief & Recovery CBD Cream contains a proprietary blend of plant-based ingredients along with the highest quality broad spectrum CBD. Essential oils of Menthol and Peppermint are soothing and cooling.
Guided by the science backed wisdom of CBD, these proprietary blends are formulated by expert chemists and naturopaths using premium U.S. hemp that is grown to the highest organic standards and principles.
This Relief & Recovery CBD Cream comes in 25mg and 50mg size bottles.
How To Use:
Apply liberally to affected area
Massage into affected areas for 30-60 seconds
Repeat daily or when discomfort occurs
You can purchase this CBD cream directly from Sagely Naturals using this
link!