Alright, so far, I've shown you how to make cheesecake and in my cannabutter piece (you're gonna want to go back to this one) I included links to a bunch of brownie recipes that I really enjoy. Here's the thing though, there's this misconception–probably having to do with popular culture conflating the word "edibles" with "brownies"–that edibles need to be sweet. While professional weed chefs regularly create whole meals that are cannabis infused, home cooks (like me and you) rarely ever try this. Nobody likes to mess up in the kitchen and weed is expensive as far as ingredients go, but I'm here to tell you that you don't always need to go with tried and true recipes.
An Anecdote:
My dad learned how to cook out of spite, pouring his frustration into the frying pan along with salt and olive oil. A resentment towards mediocre food is a remnant from childhood and a direct result of his mother's terrible dinners. An adequate cook through the first 40 years of his life, Dad really got cooking (sorry) after he and my mother got divorced. Presumably in need of hobby, he started spending all of his time in the kitchen pouring through cookbooks old and new, searching for recipes to foist onto his family and friends.
The big joke however, is that he's one of the messiest cooks on the planet– there's still blackberry emulsion stained on the white walls of my apartment from when he visited me three years ago. Whenever he goes anywhere, he offers to cook and then doesn't understand why people are reluctant to let him destroy their kitchen. Because of this, much to my father's chagrin, many a family gathering has been spent over dried out chicken breast and soggy vegetables. He always took this as a personal insult, and I used to chalk it up to pride. He's cooked through My Paris Kitchen and most of America's Test Kitchen's recipes and at this point his bad back is probably the only thing keeping him from working as a professional chef somewhere. Even so, I always found it strange that he considered good food and good company equally important. That is, until I read the first chapter of the cookbook he's writing. To quote: "We eat to not only sustain ourselves, but to comfort ourselves. We eat when we're happy, sad, depressed, elated, celebrating, commiserating, and every emotion in between."
To him, food isn't just food. He spits on Darden Restaurants not because their cuisine isn't up to par (it isn't and he's definitely angry about that too), but because these restaurants try to serve up a meal that's not commensurate with the experience they're selling. That is, a place to break bread with friends. In his eyes, to serve bland food isn't just an insult to the people you've invited to dinner, but necessarily devalues whatever social interaction you're about to have. Outside of work, most people only tend to break bread with those they care about. Since that's the case, the bread you're serving better be fantastic. With dear old Dad in mind, I've decided to go with buttermilk biscuits for this week's recipe, so you can literally break bread with your friends next time you host a dinner party.
---
Recipe adapted from America's Test Kitchen's Family Cookbook



Ingredients:
1 cup all-purpose flour, plus some extra for the counter
1 cup cake flour
2 teaspoons baking powder
1 teaspoon sugar
1/2 teaspoon baking soda
1/2 teaspoon salt
6 tablespoons of salted butter cut into 1/4 inch cubs and chilled
2 tablespoons of cannabutter cut into 1/4-inch cubes and chilled (feel free to adjusted for potency by replacing regular butter with cannabutter or vice versa)
3/4 cup cold buttermilk
Mix the dough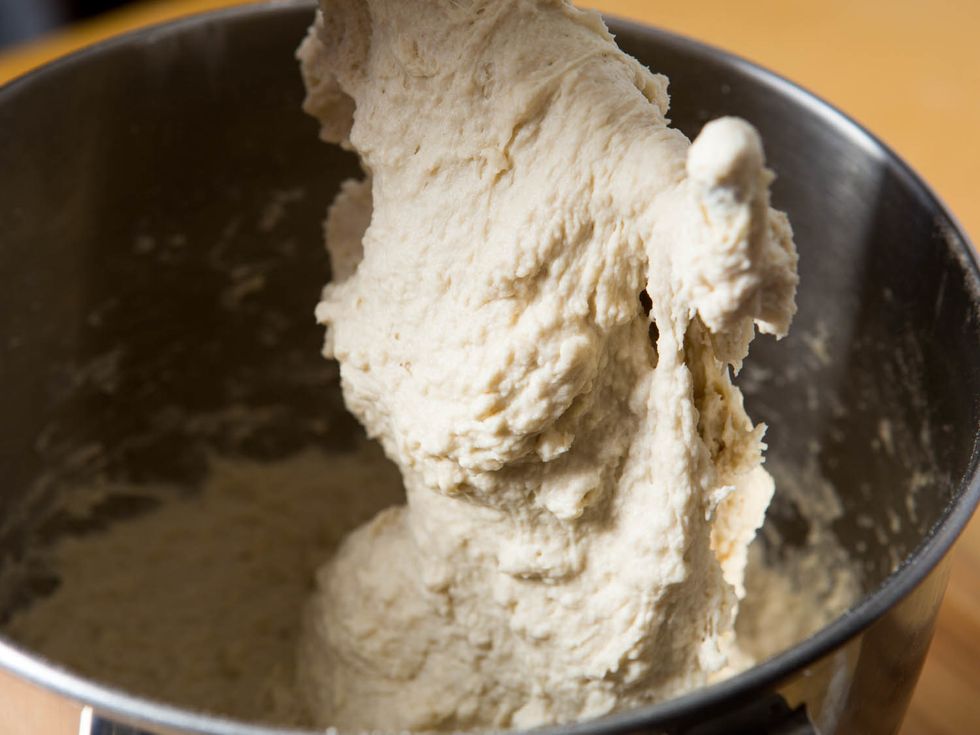 First, preheat your oven to 450˚F. Now you're ready to get started. It's important that your butter stays very cold. This is the key to making fluffy biscuits. Pour all of the dry ingredients into your mixing bowl and mix them. Next, use a food processor to cut the cold butter up finely. If you don't have a food processor, you can use a cheese grater to separate the butter. It can't be emphasized enough though; keep the butter cold! Next add your butter milk into the bowl and mix thoroughly until you have a nice looking hunk of dough.
Cut the Dough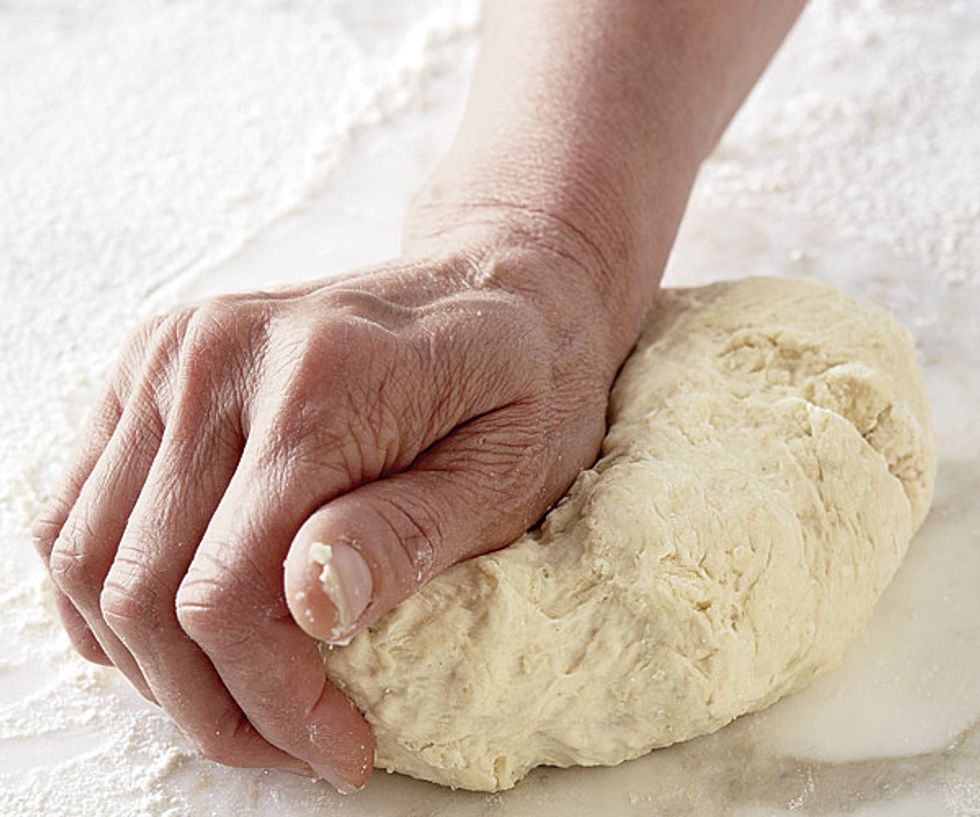 Put a bit of flour on your counter and then transfer the dough ball to it. Next, cut the dough into 12 even pieces, roll these piece into balls and place them on an ungreased baking sheet.
Cook the Dough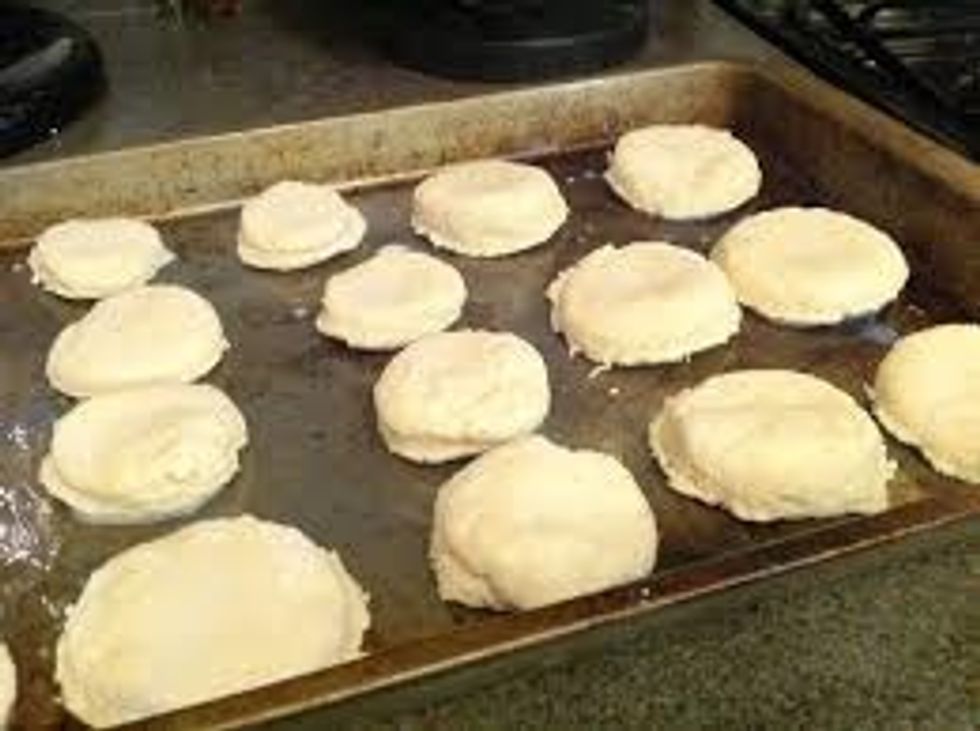 Place the baking sheet in the oven and remove when the tops of the biscuits are golden brown. This should take between 10 and 12 minutes. Enjoy!