We've all been there. Modern life just gets to be too much and all of sudden, you think to yourself, I want to get away from it all and move to the country. Live the simple life. Live off the land, wake with the sun, and wear plaid. In the most recent episode of South Park, titled Tegridy Farms, Randy and his family move out to the country to just do that. Leaving aside the fact that South Park has never seemed like a major metropolis, Randy Marsh quits his job as a Geologist for the federal government (Or doesn't he certainly becomes a farmer, if he quits or not is never established. He may be double dipping on the salary front) and buys a farm he calls "Tegridy". The running joke of the first half of the episode is that he never mentioned to his family what he would be growing on said farm. It turns out he went to where the money was and decided to go all in on cannabis. So with looks of disdain from his wife and children Randy goes about the task of living the high life.
On a Colorado Farm, they of course needed a quality country song to make the transitionwww.youtube.com
Of course if you are going to have an episode of South Park about Marijuana you need to bring back Towelie who has entered the new legal economy of Colorado by becoming a government inspector. Of course, it is South Park, so they believe that this process just involves wandering around and smoking a ton of weed. (As we've pointed out here passing government standards is a bit harder than that) Of course this is also just a fun time to run through all the different strains they grow:
Tegridy Jungle Bud, Purple Skunky Kush, Super Hindu Haze, Green Willy Stranger, Catatonic Tegridy Bud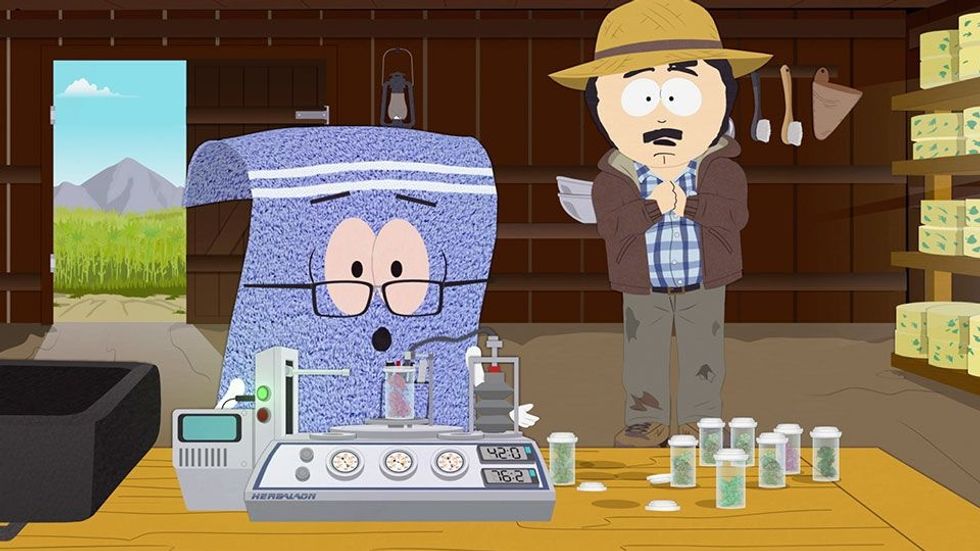 How Towelie conducted his rigorous testing
If any of these aren't already strains they will be by the end of the week. One of the open questions of the weird state of federal law is it is unclear if South Park studios can make money off of this and put out sponsored weed or not. I'm sure that conversation is being had with their lawyers as we speak.
Of course South Park needs to be as controversial as possible and 10 years ago this may have been controversial enough. However in 2018 this is no longer pushing the envelope enough. So the second plot line of the episode is over vaping. In which both they talk about it as an issue where it is being taken up as a habit by very young children. Which is a very serious problem. Along with the debate over what is the 'right way' to smoke weed. Is it better to use some of the modern vaping techniques which are only getting more popular. Stan Marsh solidly believes that using vape pens makes you a.... well series of words I have no need to say here. At the end of the episode he declares war on the local vaping establishment.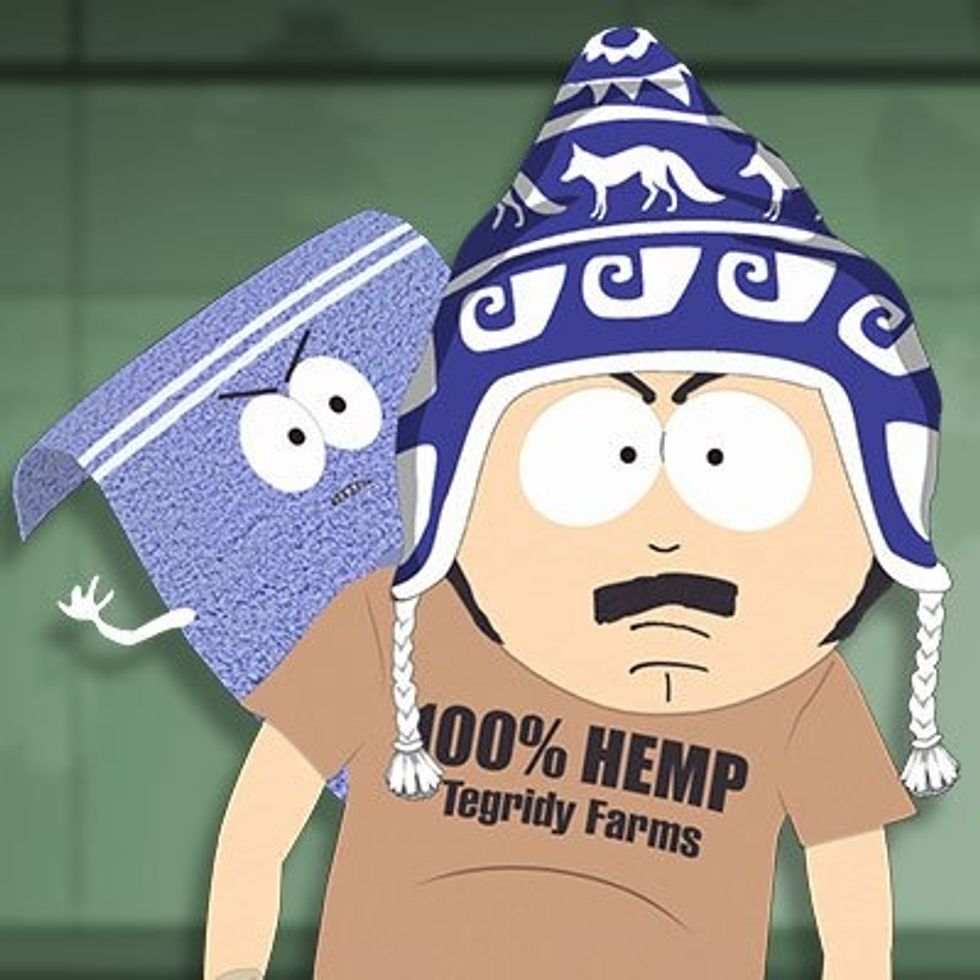 ALWAYS BRING A TOWEL!!!
Maybe the funniest episode they have done in years. Also at the end of the episode they are still very much on the farm and they may stay there for the rest of the season.
It's also worth noting that Family Guy also did their second episode of the season about Vaping as well. So now we just need the Simpons to jump onboard.
Worry not, we will bring you all the necessary updates from Tegridy Farms. Check out the full episode here along with the rest of the season:
South Park - Watch Full Episodes, Clips & More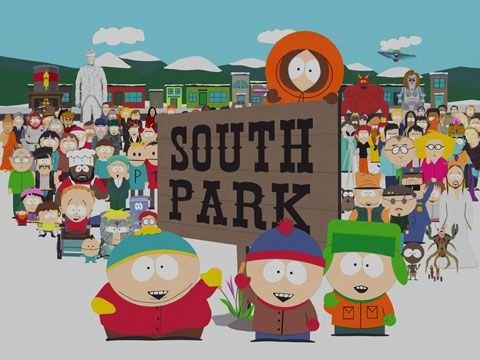 South Park - Watch Full Episodes, Clips & Moresouthpark.cc.com