We've long been scholars of Pete Davidson — discussing everything from his undereye bags (the true mark of a real New Yorker) to the ineffable "Pete Davidson Effect".

---
Though Pete has been famous since his debut on SNL as a 22 year old, he skyrocketed to fame during his short-lived — though heavily documented — relationship and engagement to singer Ariana Grande.
Ever since then, women of all ages have flocked to him — from model Kaia Gerber to actress Kate Beckinsdale. The latest to be lured in by his sad boy charm? Kim Kardashian.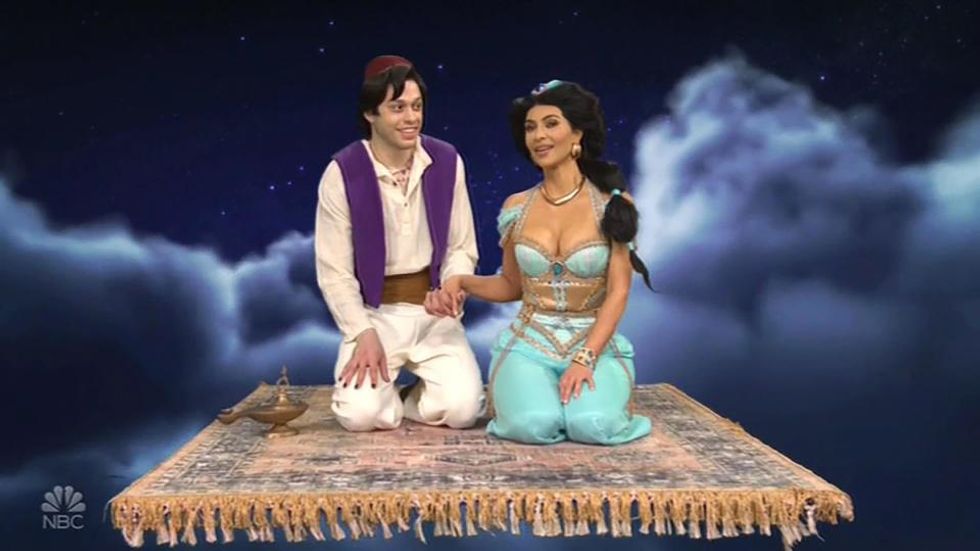 A whole new world?via NBC
Following her divorce from Kanye West, it seems that Kim just wants to have fun. And who better than the unpredictable Hollywood hottie who promises a lot of chaos and assuredly a damn good time.
Pete — Scorpio — and Kim — Libra — seem like they'd have fun together. Both are predisposed to be playful and not take things too seriously. So, while we don't predict a whirlwind romance that leads to nuptials — unlike Kourtney Kardashian's recent press tour of a relationship with her now-fiance Travis Barker — we do expect to see a few more public appearances from this unlikely couple of the month.
So … are they dating? Probably.
How did this even happen, you ask? It's not as far-fetched as you might think.
The two were first spotted on a Halloween rollercoaster together, holding hands in the background of a classic rollercoaster picture. They were there with the couples of the moment: Kourtney and Travis, and Machine Gun Kelly and Megan Fox.
This ensemble begins to make a bet more sense. Pete is best friends with MGK, who's a frequent collaborator with Travis. Kourtney and Megan have become best friends, and even modeled for Kim's brand SKIMS together. And so they all went to a Halloween bash together.
However, this is not the first time Pete and Kim met. Kim's recent SNL performance was generally well reviewed. And it stands to reason her surprisingly exceptional comedic timing earned her points with Pete — not that she needed them … she is Kim Kardashian after all.Cursed Image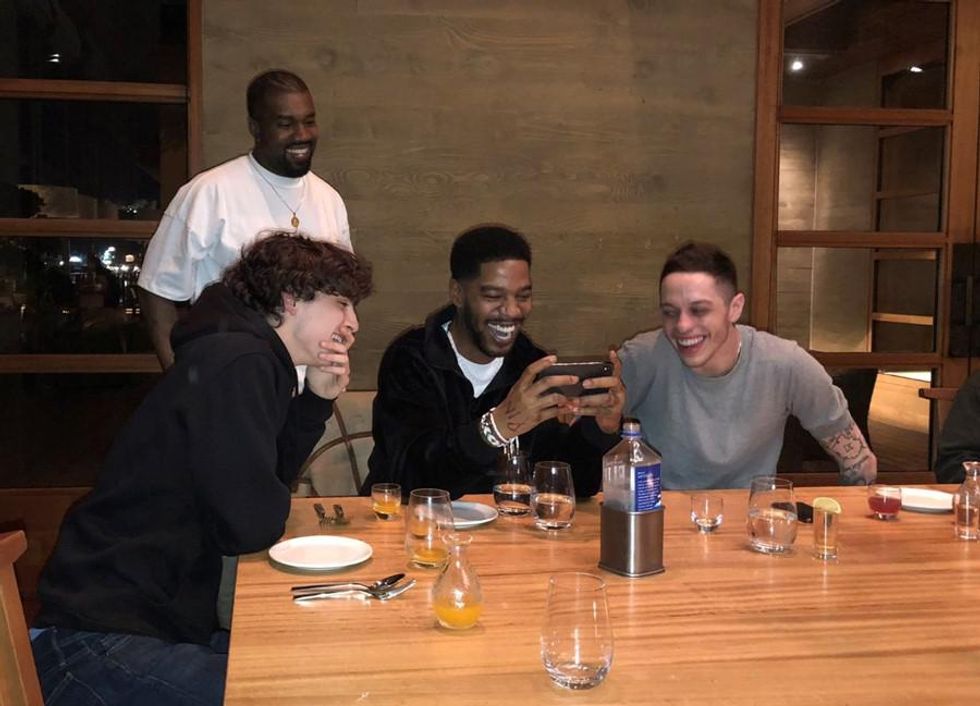 Cursed Imagevia ... Kim K
While all this might feel too close to home — that's Hollywood for you! The pair seem unfazed by their mutual friends and close circle, spurring rumors with every outing.
But how?
What's most speculated about is how Pete Davidson, a stoner from Staten Island, enticed Kim Kardashian, who is Kim Kardashian.
Well, first of all he's rich and famous. Second of all, dating other prominent women has set a good precedent for the comedian. This is what is known as the "Pete Davidson Effect," which was set in motion when he started dating Ariana Grande.
Urban Dictionary defines "The Pete Davidson Effect" as: "Women are influenced by their peers in determining if a man is attractive or not. When Pete Davidson was dating Ariana Grande suddenly millions of females thought he was super sexy and attractive. After Grande dumped him, not so much."
But beyond this inimitable reality, there's got to be more to it than a mere Urban Dictionary phrase. Part of it's simple: Pete's confident, outgoing, and easy to be around. Plus, thanks to a team of experts, he's also operating at peak performance all the time.
While you may not be able to instantaneously land a job at SNL and a relationship with a prominent actress, one thing you can do is chill out and get to peak performance with Just Live, CBD products made by athletes to keep you at your best.
Step up your routine with Just Live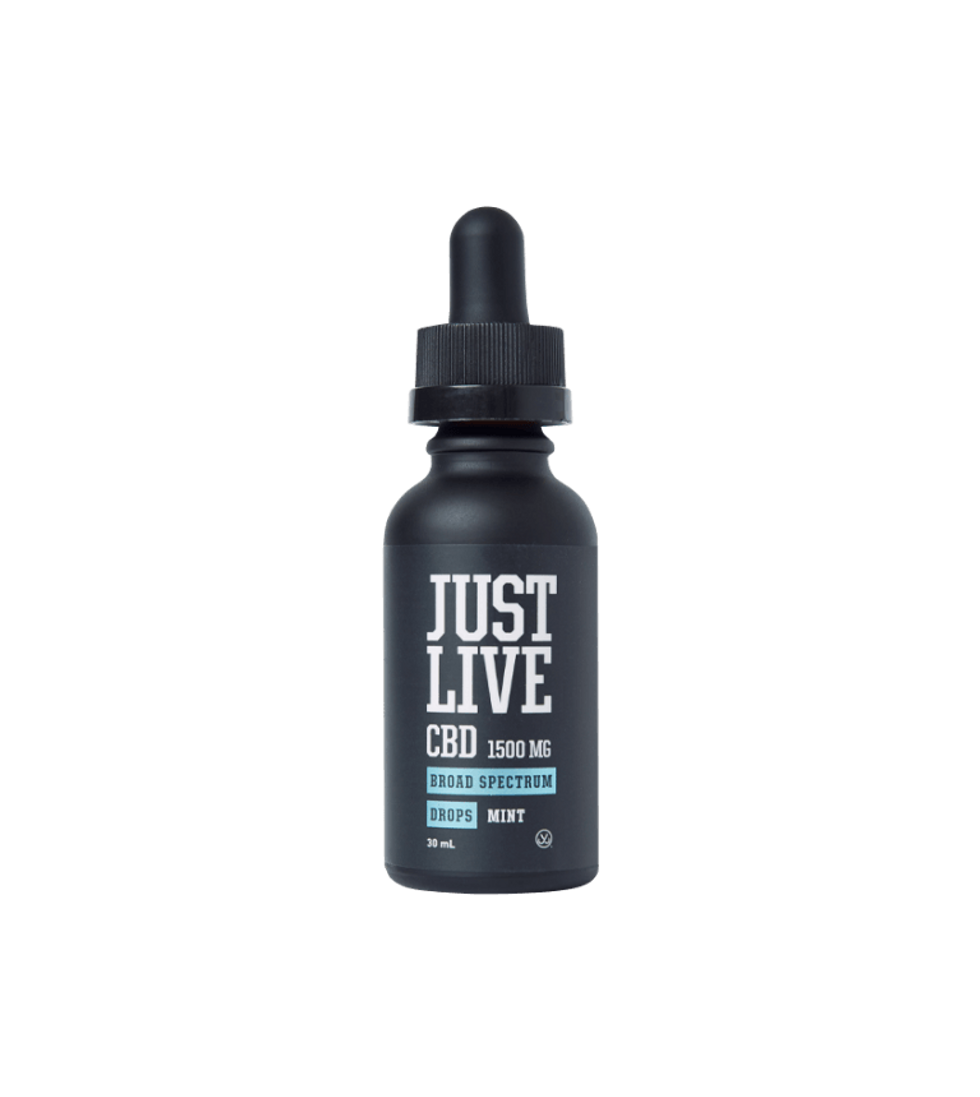 CBD DropsJust Live
It's no secret that Pete Davidson likes to … partake. Some of it is due to his struggle with Crohn's Disease, capitalizing on CBD's healing and pain relieving properties.
You too can make the most of these with supplements from Just Live.
According to Just Live, "CBD has been known to provide pretty extensive therapeutic potential but without some of the down sides of THC such as intoxication, dizziness, paranoia, or anxiety."
Just Live's dynamic blend of natural ingredients and CBD harnesses the power of plants will help get you to your best.
Some of our favorite products include:
Immunity CBD Gummies - Elderberry: This is the optimal time of year to boost your immunity. These yummy gummies are a simple way to help your body protect itself. This holistic mix of natural ingredients and CBD leverage powerful antiviral and anti-inflammatory properties that can reduce the duration of symptoms caused by invading pathogens.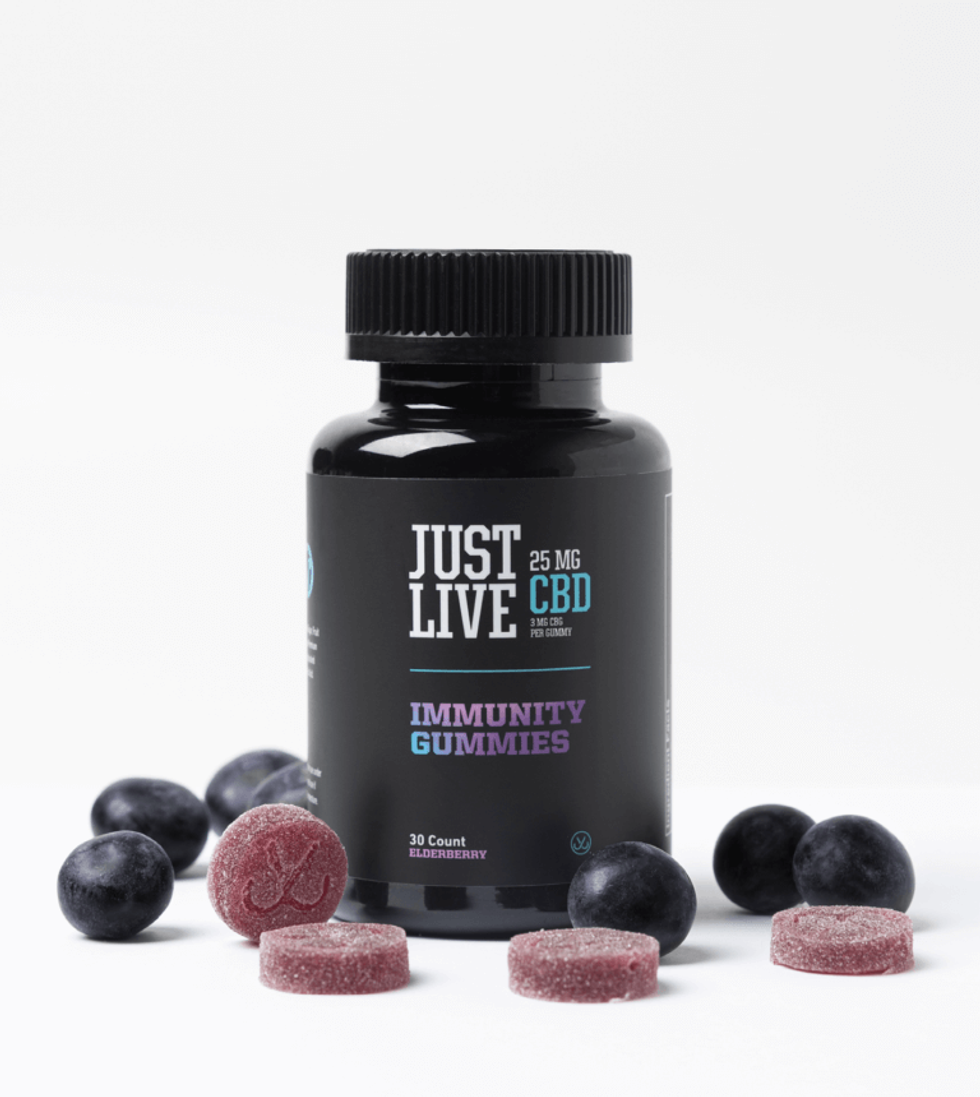 Just Live
Broad Spectrum Mint Drops: These broad spectrum drops have super capabilities that make it an essential for your daily routine. MCT oil helps your body metabolize the CBD, and the two blend to enable more efficient post-workout and relaxation and recovery. They even help you sleep better!
Freeze Therapy Roll-On: One of the best aspects of CBD healing is that you can use direct application to target a specific pain. CBD's antioxidant/analgesic properties work together with Menthol and Arnica to help ease the pain that can come with daily exercise and life stresses that lead to everyday wear-and-tear.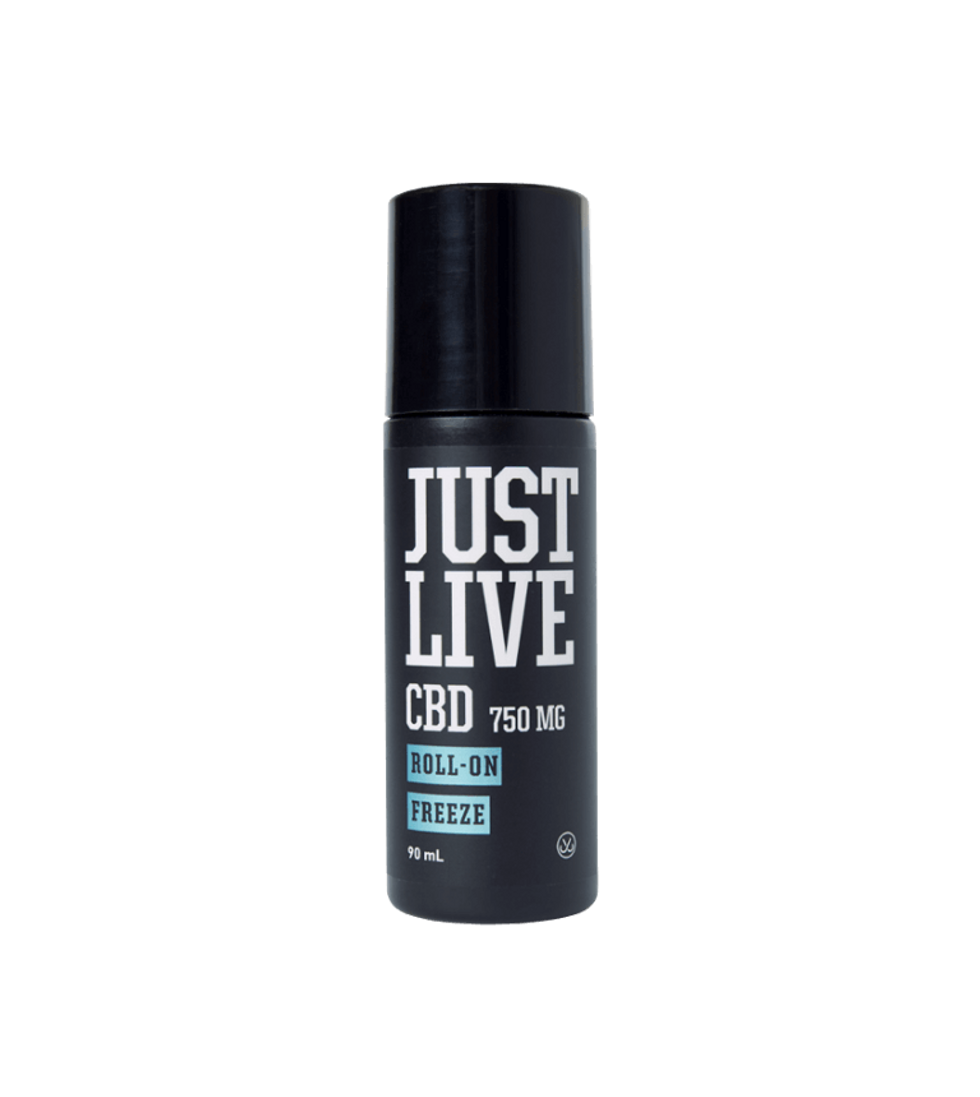 Just
Sleep Kit: Everyone knows the key to looking and feeling your best is sleep. This Sleep Kit contains Deep Sleep Softgels that are the ideal pre-bedtime ritual which will increase Melatonin while the CBD minimizes Cortisol and help you drift off to sleepytown in no time!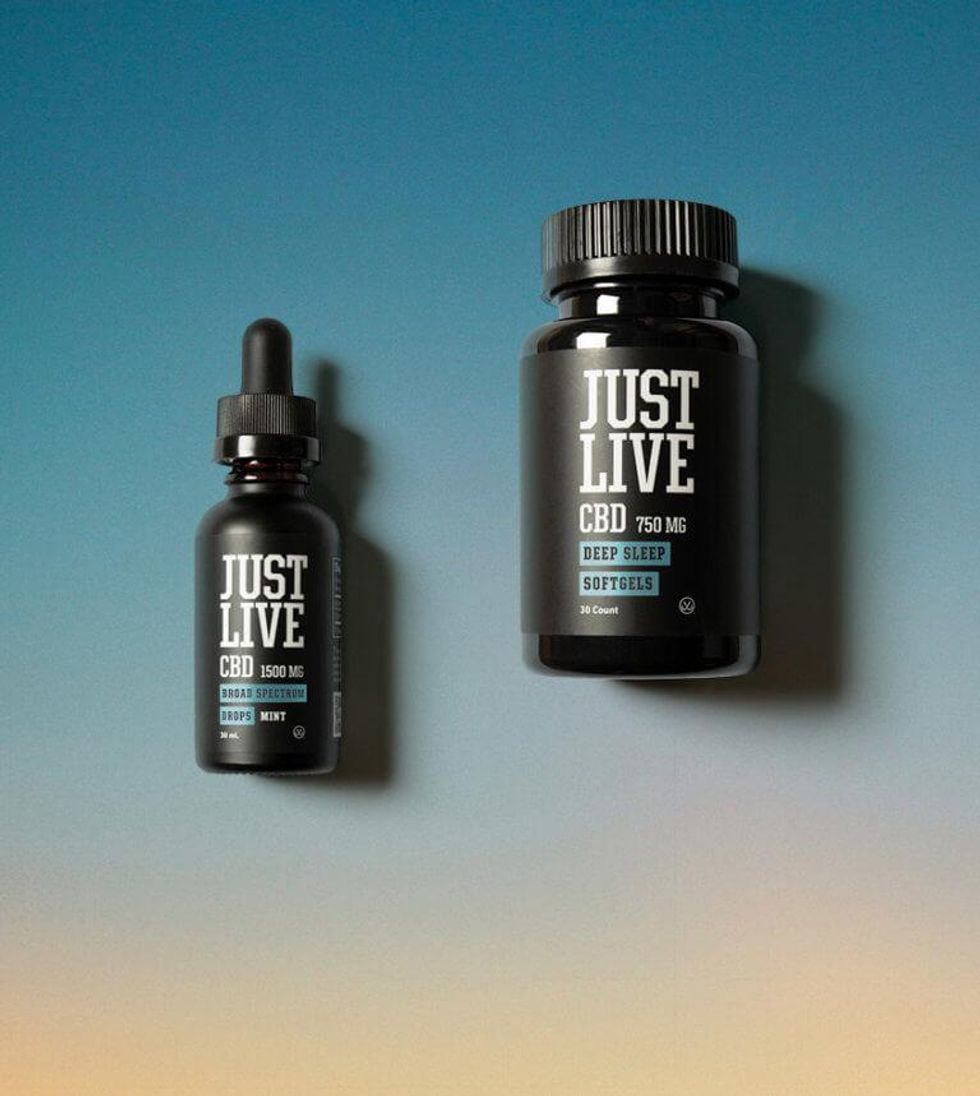 Thanks to the power of CBD, we'll all soon be able to operate at our body's best. And maybe — just maybe — someone will see us holding hands with some sweet someone on a Halloween rollercoaster and say, good for them … but how?
*
*
This Haunts Me: Pete Davidson's Dark Eye Circles - Popdust

Is Pete Davidson "Ugly Hot" Enough to Be Steve Buscemi? - Popdust