Massachusetts based company, anna, debuts the world's first A.I. powered cannabis vending machine. Customers can experience the anna platform at either of two Colorado locations, Strawberry Fields, in Pueblo, or Starbuds, in southeast Aurora, starting this week.
A.I. Cannabis Vending Machines Debut In Colorado and Massachusetts
Each machine has a footprint of 8 square feet and can hold in excess of 2,000 products
Customers can choose from smokable flower, edibles and concentrates
The anna app allows customers to browse and place pre-orders for in-store pickup
Self-checkout allows for the least amount of human interaction
Company plans to expand to Nevada, California and eventually Canada
History Of Vending Machines

Before we take a deep dive into the world of A.I. powered self-checkout in the cannabis industry, let's take a look at the history of vending machines and how they have come to evolve in the 21st century.
The absolute earliest reference to a vending machine can be found in the Roman province of Egypt. A first century mathematician and engineer by the name of Hero Of Alexandria invented a vending machine that dispensed holy water. It was a very simple design that was coin operated and used a series of valves and a pan to dispense a set amount of water. A customer would drop a coin into a pan which was attached to a lever. Once the lever had the weight of the coin on it, the pan began to tilt and would open a valve, thereby releasing the holy water. It is truly amazing when you realize how advanced a machine it was for its time.
Fast forward to the early 1600's, where cigarettes/tobacco were being dispensed via coin operated vending machines throughout taverns in England. Each vending machine was portable, but very heavy, due to the fact that they were made out of brass. Despite the wealth of information as to the danger that smoking poses, you can still find cigarette vending machines in some bars around the world.
In 1867, Simeon Denham, a British citizen, was awarded a patent for an automatic vending machine that dispensed stamps. It was the first automatic vending machine of its kind and a sign that vending machine technology had advanced significantly.
If you had to take a guess as to what the first modern day vending machine sold, what would it be? Don't worry, unless you are one of those Jeopardy types, there is NO way you are going to get it! OK, the first products sold via MODERN vending machine were postcards, in 1880's London, England. Invented by a man named Percival Everitt in 1883, these machine were very popular and most frequently utilized at post offices. England definitely seems to be the epicenter of vending machine technology.
Meet Anna

Now, for the reason we are here today, let's do a deep dive on anna, the world's 1st A.I. powered cannabis vending machine. Built on technology that is going to rapidly change the way retail business is conducted in the post COVID-19 age!
Purchasing legal cannabis is about to get much easier, and cooler! A Massachusetts technology company has revolutionized the way consumers will be able to browse, order and take home marijuana, with virtually no human interaction. At a time when limiting face-to-face contact with unfamiliar people is vital to protecting yourself from the COVID-19 virus, this technology could not have come any sooner.
Billed as "The first AI powered self-checkout solution for cannabis dispensaries and CBD retailers," a new high-tech cannabis vending machine is set to make its grand debut in Colorado this week.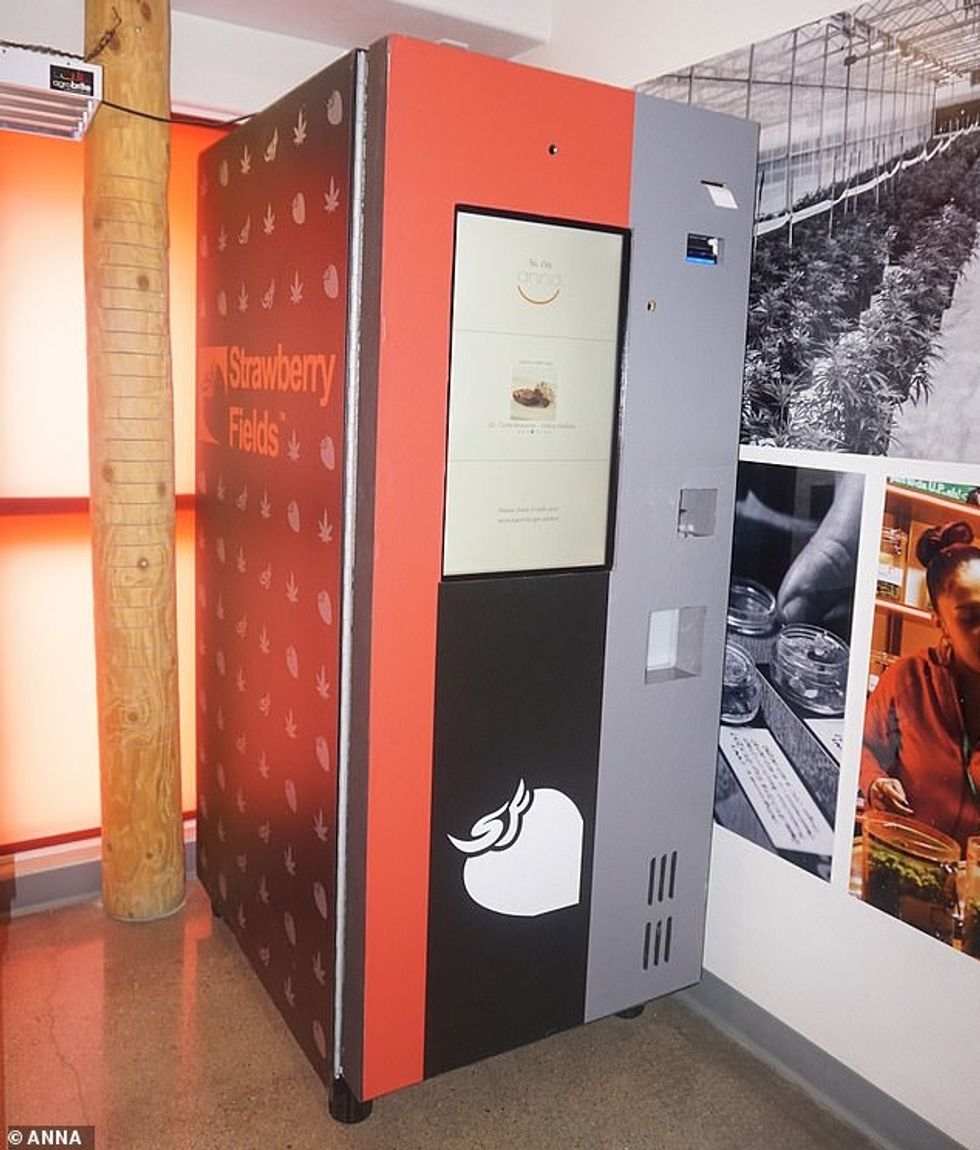 Meet AnnaGetty Images
As of right now, eager customers will get their chance to purchase legal cannabis from anna machines at either of two dispensaries, Strawberry Fields, in Pueblo, Colorado, or Starbuds, in southeast Aurora, Colorado. Each anna machine will be customized for the store and location that purchased it.
Plans are already in place to continue expansion throughout Colorado and eventually into Massachusetts in September, with the goal of wide spread use across the states of California and Nevada. Anna also plans to expand its presence across the border into Canada, making its machines available everywhere in North America.
Why Do Dispensaries Need Self-Checkout?

One of the biggest reasons that self-checkout could be so important is that it will free up time that a budtender has to spend filling orders. Traditionally, each customer gets to spend as much one-on-one time with a budtender as necessary to complete their purchase, someone who will go over the menu options and help them choose the product best suited for their needs.
However, many of the customers that are visiting these dispensaries today are experienced and know a lot about the products that are available for purchase. Dispensaries need to be able to focus the attention of their budtenders on the beginners and inexperienced customers that do not necessarily know what to they want to buy and would need to spend time going over their individual needs before making a final decision.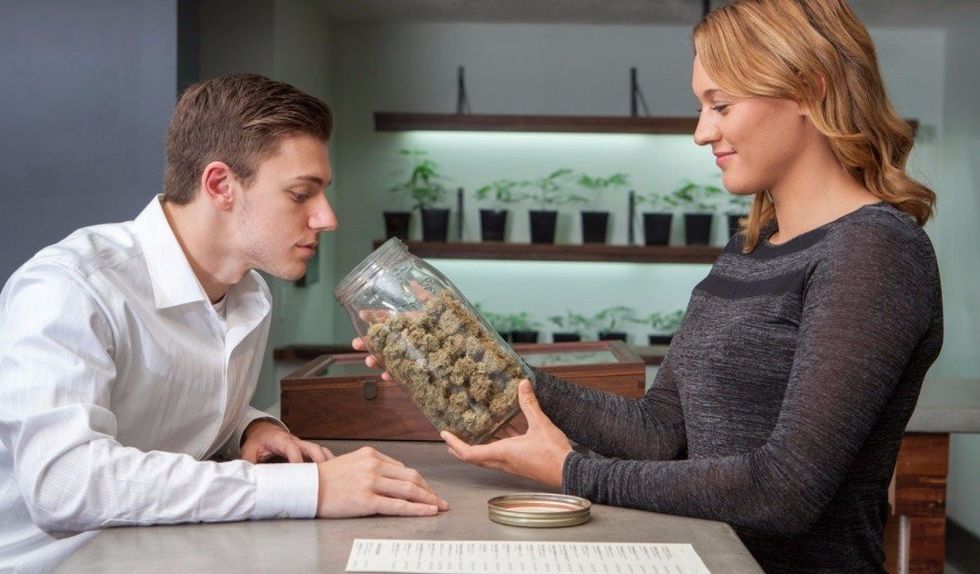 BudtenderGetty Images
Stores that use anna machines will be able to direct those more experienced customers to self-checkout, freeing up bedtenders' time, while optimizing the speed and efficiency of the store's overall checkout process.
Matt Frost, CEO of Anna, hails from Massachusetts, where dispensaries have been regularly seeing multi-hour long waits for customers, to the point where many are now requiring reservations.
After realizing how big of an impact self-checkout would make for the cannabis industry, Frost new he had to act, and fast.
About Anna (read in full here)

"When purchasing legal cannabis for the first time in late 2017, the founder of anna asked himself one simple question -"Where the heck is the self-checkout?"
We live in an increasingly automated world. The retail automation industry is projected to reach $19 billion by 2022.
Despite being born in the age of technology, the legal cannabis industry has ignored retail trends. After spending millions on square footage like its big box retail predecessors, we're unfortunately seeing downsizing and halts on expansion plans by MSOs. The result? Long lines and less customer service.
Anna.tech is changing how consumers shop for cannabis - bringing the retail experience into the 21st century with smart, AI-powered technology. anna's vision is simple: Provide retailers and consumers with cutting edge technology that enables fast, compliant transactions customized to their unique and growing needs."
How It Works

Customers check-in with an anna.agent as soon as they arrive at the dispensary. For clarification, an anna.agent is a real human.
Upon greeting the customer, the anna.agent verifies the customer's driver's license (in full compliance of local and state laws) and then wirelessly unlocks the next available anna machine for use by the customer.
Customers can now browse their favorite cannabis products, add them to their bag, and then request checkout.
The anna.agent is notified of the checkout request, reviews the transaction, and requests payment from the customer.
Once payment is verified, the anna.agent wirelessly dispenses the customer's order.
Finally, the customer retrieves their products and checks out with the anna.agent.
Customers will be able to use the 27-inch touch screen to fill their carts. Accepted methods of payment include cash of debit card*
*Due to the fact that marijuana is still illegal on the federal level, the vast majority of banks are unable to accept deposits from cannabis businesses or facilitate financial transactions for them in any way. As a result, customers are unable to use credit cards to purchase cannabis products in America at this time.
What Is An Anna.Agent?
An anna.agent is a cashier/associate who is responsible for authorizing a sale, initiated by a customer, once it has been submitted through the anna portal. Anna.agents are also able to monitor sales transactions in realtime, by using a tablet that has a direct connection to the same network anna runs on.
This process is specifically designed to maintain industry compliance as well as all state and local laws.
What Are The Advantages Of Anna?
Anna facilitates fast, reliable. and cost-effective transactions with a user experience commensurate to that of modern retail.
By adopting this new A.I. platform, cannabis dispensaries will be able to reap the benefits of the new technology, which are as follows:
retail overhead by automating in-store customer transactions.
In-store transactions can be completed in less than one minute
Provides real-time inventory and data management, as well as customer intelligence that can be analyzed and then used to help fuel business growth.
Full remote client support
Use of the anna.app that allows customers to search live product menus, so that they know exactly what is in stock before they arrive at the dispensary as well as the ability to submit online orders for pickup.
Can Customers Pre-Order Purchases For Pickup?

One of the greatest features of the anna platform is the anna app. After downloading and installing the app, customers will have access to a dispensary's live product menu, which will allow them to browse and purchase their favorite products anywhere they are, straight from their phone.
Once you have decided what products you want to buy and have added them to your cart, the next step is submitting your order, which is then approved by an anna.agent. Once the online reservation for your order has been approved, the anna.agent will email the customer a single-use barcode (QR code) containing the order information, further streamlining the dispensary checkout process.
Anna is considered "POS and Payment agnostic," meaning it will fully integrate with the existing structure of your business and work with any payment system you decide to use.
What Does Anna CEO Matt Frost Have To Say?
"The retail technology available to dispensaries has inhibited the cannabis industry's path to normalization. In many traditional retail industries, self-checkout transactions are standard."
"With anna, our stakeholders will see very quickly that prioritizing retail efficiency improves store traffic, and allows associates to spend additional time on more inexperienced customers. anna epitomizes 'Cannabis Retail for Now'."

What Does A Typical Anna Display Look Like?
On average, each dispensary that signs a contract with anna will maintain at least three or four anna machines on their retail floor. With a capacity of more than 2,000 products in 8 square feet, each machine makes a strong contribution to a stores inventory and sales. AI powered self-checkout is about to become a substantial part of the retail cannabis business.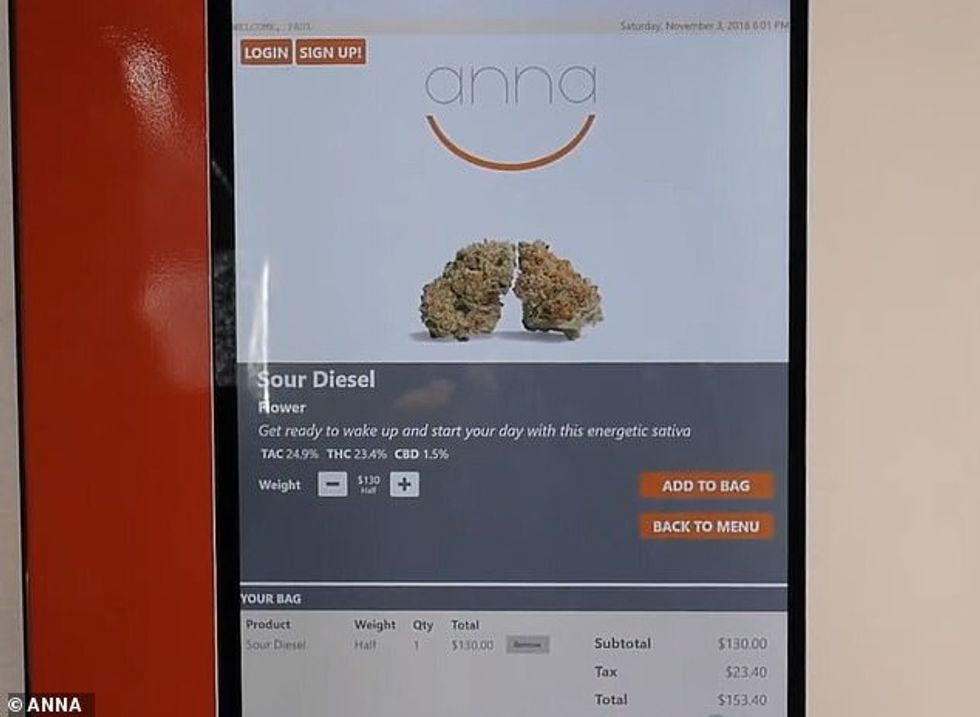 Sour Diesel Product Page, Anna MachineAnna
Anna Serves CBD Products also

The great thing about anna is that she is not only limited to dispensing legal marijuana, the A.I. power behind the machine was built to work for CBD products sold in states where products containing THC are not currently legal. Anna can be customized and designed to serve the needs of legal hemp and CBD businesses all over the world, while maintaining full compliance with all local applicable laws.
Takeaway

Anna is sure to be a game changer for the cannabis industry. Considering the current state of the country given the COVID-19 pandemic, its super important to limit the amount of interaction people have with each other while the world waits for a vaccine. Self-checkout, a method of checkout that has been popular in major chains of all industries for years now, is going to help dispensaries within the cannabis industry comply with local laws, no matter what phase of reopening they are currently in.
Once the pandemic is finally over (yes, that day will come!) anna will continue to serve a purpose by streamlining the checkout process for dispensaries, allowing them to serve more customers, while also devoting the majority of their budtenders' time to those customers who are unfamiliar with marijuana and need extra guidance as they choose the products best suited for their needs.
It is crazy to watch progress advance in states with medical and adult-use cannabis programs, while the rest of the country is left in the dark. Here's to hoping that the rest of 2020 brings us the change we so desperately need to open up the rest of America to the gifts and stability that the cannabis industry has to offer.