Marijuana and food are inextricably linked. We all know about the munchies, but there's actually a scientific process behind marijuana's ability to make us hungry. When cannabis reacts with our brain, it activates the neurons that are supposed to control our hunger, but for reasons that are so far inexplicable, it reverses the way these neurons are supposed to react. As if you weren't already painfully aware, the flipping of these neurons can lead to extreme overeating. That said, the food you're eating doesn't have to be junk you purchased at your local convenience store. Not every high meal has to end with a debate about whether Oreos come in a bag or box while you and your friends stare at the bag/box wondering how you managed to hose that many double-stuffed sandwich cookies. In fact, not every high meal has to start with getting high. Making marijuana edibles is a process as old as time. Nomadic tribes in Morocco used to make hash jam, Chinese Emperors used to drink marijuana infused tea, and nowadays American weed shops now sell goodies such as pot brownies, gummy bears and lollipops. Still, there are some chefs who want to push the envelope further, turning marijuana into the key ingredient in a new type of fine dining.
Cue Chris Sayegh, a renowned chef who's trained at Michelin starred restaurants such as Melisse in Santa Monica, California. Instead of climbing up the ladder of established fine dining, Sayegh has created his own SoCal catering company, one that combines culinary expertise and, you guessed it, marijuana. He isn't just making fancy brownies. Sayegh's tasting menu, completely imbued with pot, includes items like gnocchi, Cornish hens, and oysters. He's able to turn this traditional fare into food that gets you high by using a wide variety of cannabis-infused oils. He's such an expert at preparing this stuff, he's somehow managed to make something as simple as oysters into a dish that gets you stoned. That said, eating a three course meal worth of regular edibles sounds like it goes against conventional wisdom surrounding potency. Sayegh however, is an experienced pothead, and his goal isn't to send his patrons on a edible-induced trip to Mars, but rather to get them into a perfectly balanced "euphoric zone." Adopting the moniker "The Herbal Chef," Sayegh is getting ready to launch his debut restaurant Herb in L.A. later this year.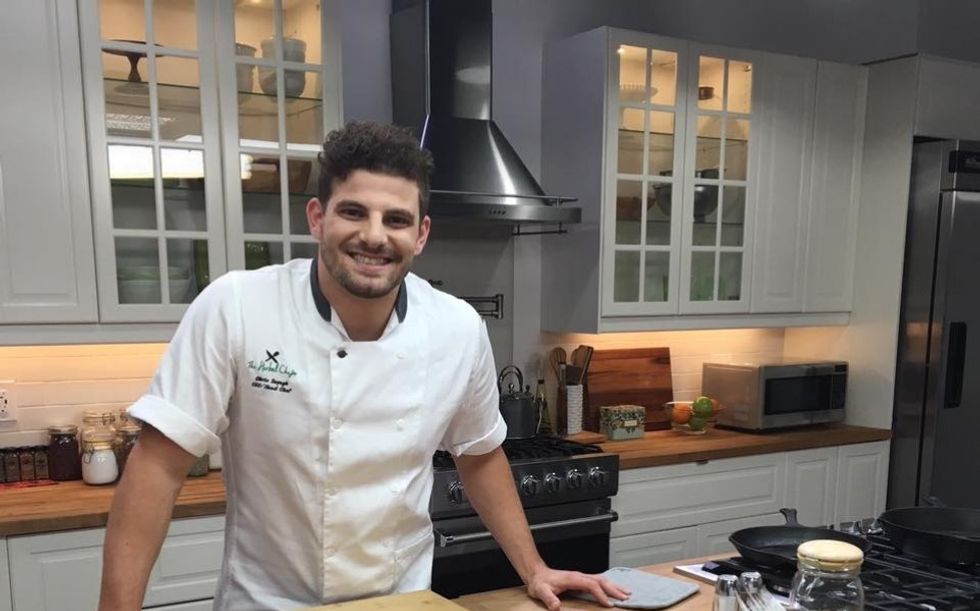 Chris Sayegh, The Herbal ChefCivilized
While Sayegh has been getting the most publicity, he isn't the only ganja gourmand around. Andrea Drummer was once a chef at the L.A. Ritz-Carlton who trained under renowned chef Neal Fraser. In 2012 however, she was introduced to cannabutter, one of the most versatile ingredients available to weed chefs. After this discovery, Drummer never turned back. She immediately founded a catering service, called Elevation VIP and started providing SoCal with her specially curated meals. While her menu is constantly changing, some of her specialities include French onion soup, seared duck with blueberry gastrique, and bayou shrimp.

Drummer, like Sayegh, has revealed intentions to eventually open up a restaurant catering to those with a slightly more sophisticated munchies' palate. Now that recreational marijuana is legal in California, these catering companies will no longer have to pretend their food is exclusively medical. As the legal barriers surrounding marijuana use are torn down all across the country, it's becoming easier to predict the future of gourmet weed cooking, a future in which weed restaurants pop up in all of America's great food cities.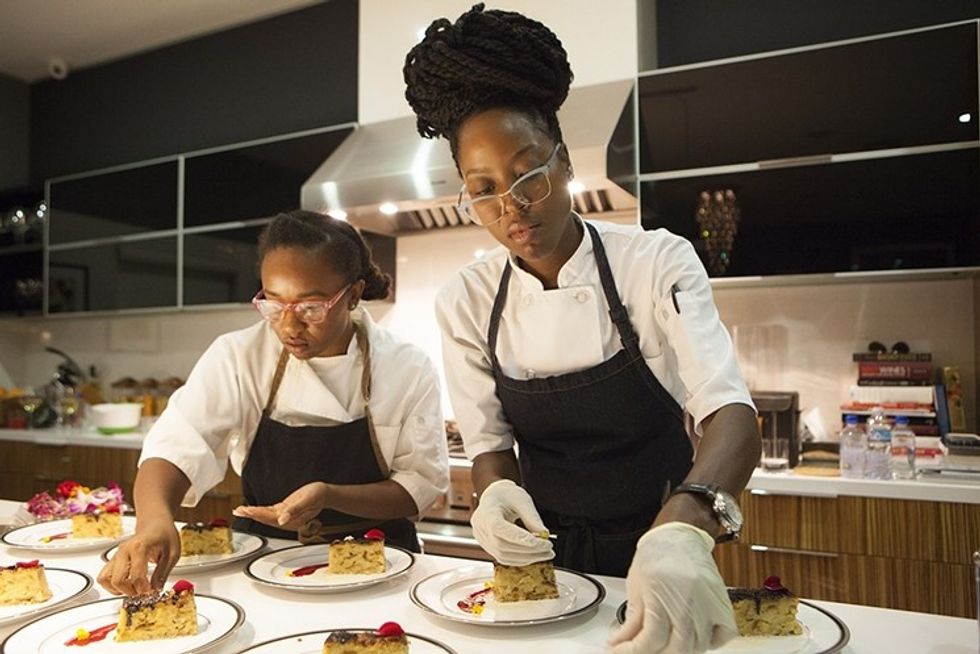 Andrea Drummer (right) and her sous chefLA Weekly
As cannabis dining reaches the mainstream, it'll be interesting to watch great marijuana chefs like San Francisco's Michael Magallanes, Scottsdale's Payton Curry, and Chicago's Mindy Segal go toe-to-toe with traditional juggernauts like The French Laundry and Eleven Madison Park. The chefs involved in this growing trend are certainly good enough, but the question still remains: can a Michelin reviewer accurately grade a meal that gets them stoned? While legality feels inevitable, it could be a long time before marijuana chefs are accepted by the culinary elite.
There never was much doubt that fine cannabis cuisine would be legitimized by marijuana enthusiasts first and serious critics second, and it could be awhile before you see your favorite pot restaurant in Zagat. Still, even if the traditional food guides omit this trend, the future is bright for those of us looking to enjoy an enhanced dining experience. What remains to be seen is whether this type of food can exist as more than a novelty and if these restaurants can attract regulars who can afford their upscale pricing.
---
Matt Clibanoff is a writer and editor based in New York City who covers music, politics, sports and pop culture. His editorial work can also be found in Pop Dust, The Liberty Project, and All Things Go. His fiction has been published in Forth Magazine. Website: https://matthewdclibanoff.journoportfolio.com/ Twitter: @mattclibanoff