From that daily drop under the tongue to the multi-step skincare routine in the evening, CBD is always the star. There are also benefits to incorporating it into the more mundane parts of your wellness routine – we're talking about oral health, of course!
As the CBD boom continues, a lot of companies are releasing CBD toothpaste and mouthwash. At this point, you might think it's just buzz, but there are some compelling reasons to give your mouth some CBD-love.
Why Use a CBD Toothpaste?
The tissue in our mouth (especially our gums) is very susceptible to inflammation, from canker sores to gingivitis. Factors like diet, oral health practices, smoking, and stress can also influence the health of your gums and other oral tissue.
CBD on its own won't solve most of these issues directly. It might help prevent stress-induced gum inflammation, and early research suggests it can prevent bone resorption which is a symptom of gum disease, but at the moment, none of this counts as robust evidence that can be applied to specifically CBD toothpaste.
However, CBD can help as a remedy for the symptoms of gum inflammation. Topically, CBD is famously soothing to the skin. It calms inflammation and reduces pain, leaving the soft tissue of the mouth feeling much healthier.
It's also worth mentioning that while topical CBD doesn't have much of an internal impact, in the form of a toothpaste or mouthwash you can expect a physiological effect. The mucous membrane can absorb nutrients and deliver them directly into the bloodstream, which is why many experts believe that CBD is more bioavailable when taken sublingually than when it's consumed. If you brush your teeth for the requisite 2 minutes, that might be enough time for a bit of CBD to enter your bloodstream and have a calming effect on your body.
Many sources like to discuss CBD's effects against the bacteria that form plaque and lead to tooth decay, but we think that's pretty overblown. CBD does have antibacterial effects, but they're not that strong when it comes to the gram-positive bacteria that wreak havoc inside the mouth. With that said, the mechanical act of brushing your teeth and then rinsing is often enough to get rid of that bacteria, while bi-yearly visits to the dentist are critical for getting rid of more persistent plaque buildup.
Our bottom line is that if you have sensitive gums then a CBD toothpaste is definitely worth trying, but there's no harm in trying it even if you don't. The most important thing is that you incorporate a CBD toothpaste as part of a comprehensive oral hygiene routine, not instead of one!
The Best CBD Toothpastes to Try
Want to try this innovative format of CBD? These are our favorite CBD toothpastes to try!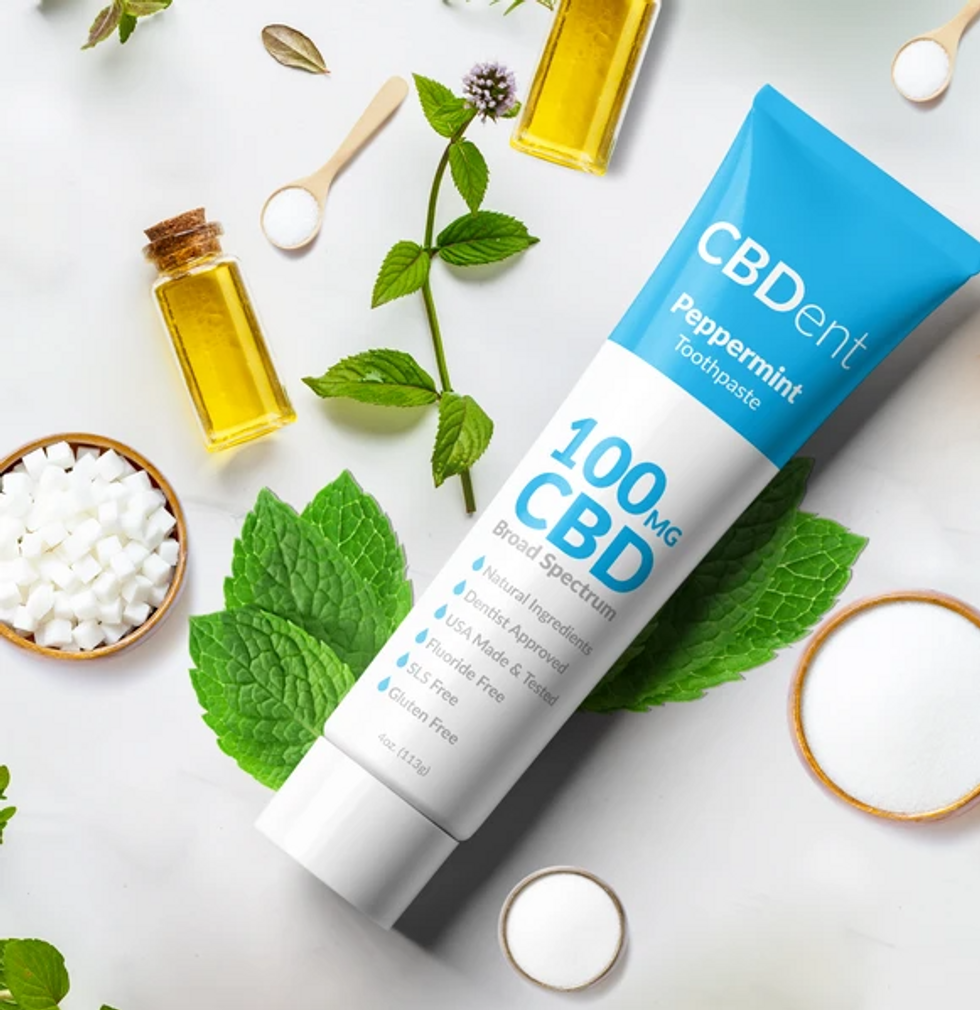 https://www.getcbdent.com/products/peppermint?variant=31447016734780
This CBD toothpaste is quite exciting! It's made by a team that includes dental students and dentists, with evidence-backed ingredients and without anything harsh or harmful. Each 4 oz tube contains 100 mg of broad-spectrum CBD, so it includes all of the cannabinoids and terpenes from hemp, but absolutely no THC. It also features hydroxyapatite, which is an effective alternative for fluoride that remineralizes the teeth. All in all, this product easily earns our trust.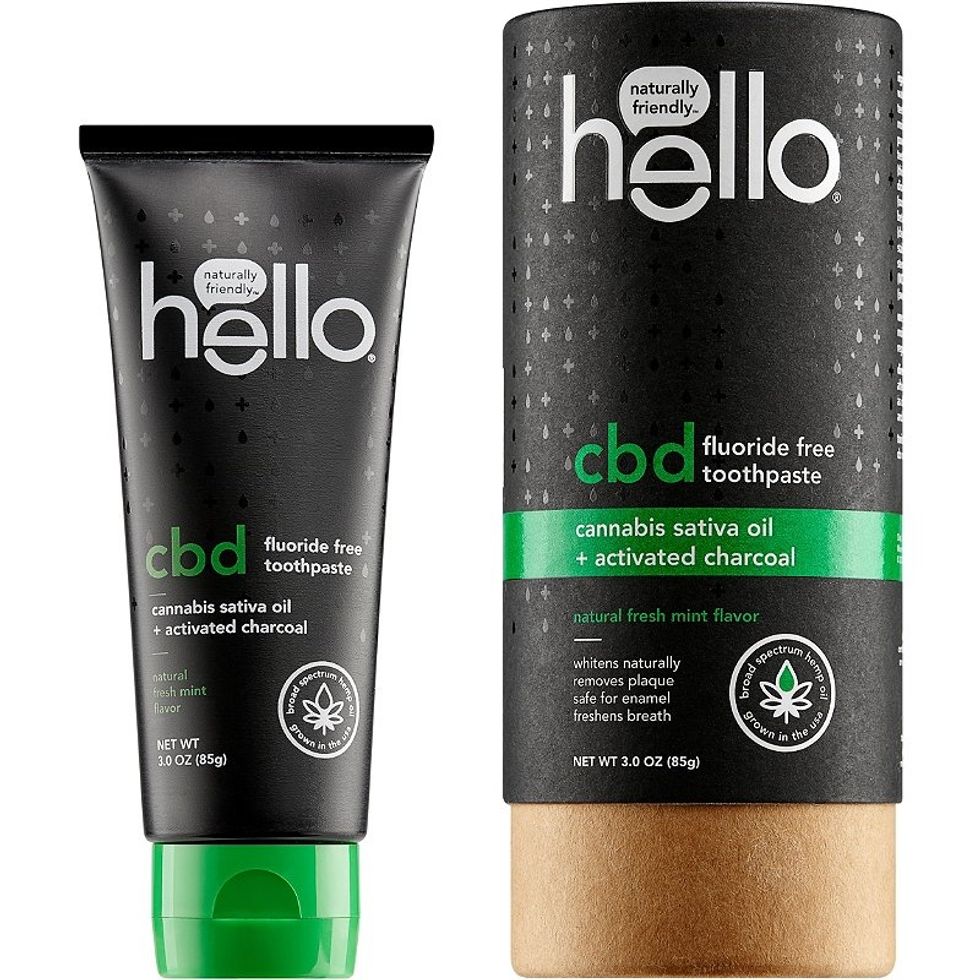 https://www.ulta.com/cbd-activated-charcoal-fluoride-free-toothpaste?productId=pimprod2013892
You may not have heard of Hello, but you've surely heard of their parent company, Colgate. This toothpaste includes ingredients like stain-fighting charcoal along with invigorating coconut oil. The CBD used here is broad-spectrum, but the precise amount is not disclosed. If you don't want to put the health of your teeth in the hands of a smaller company, then this is your mainstream option.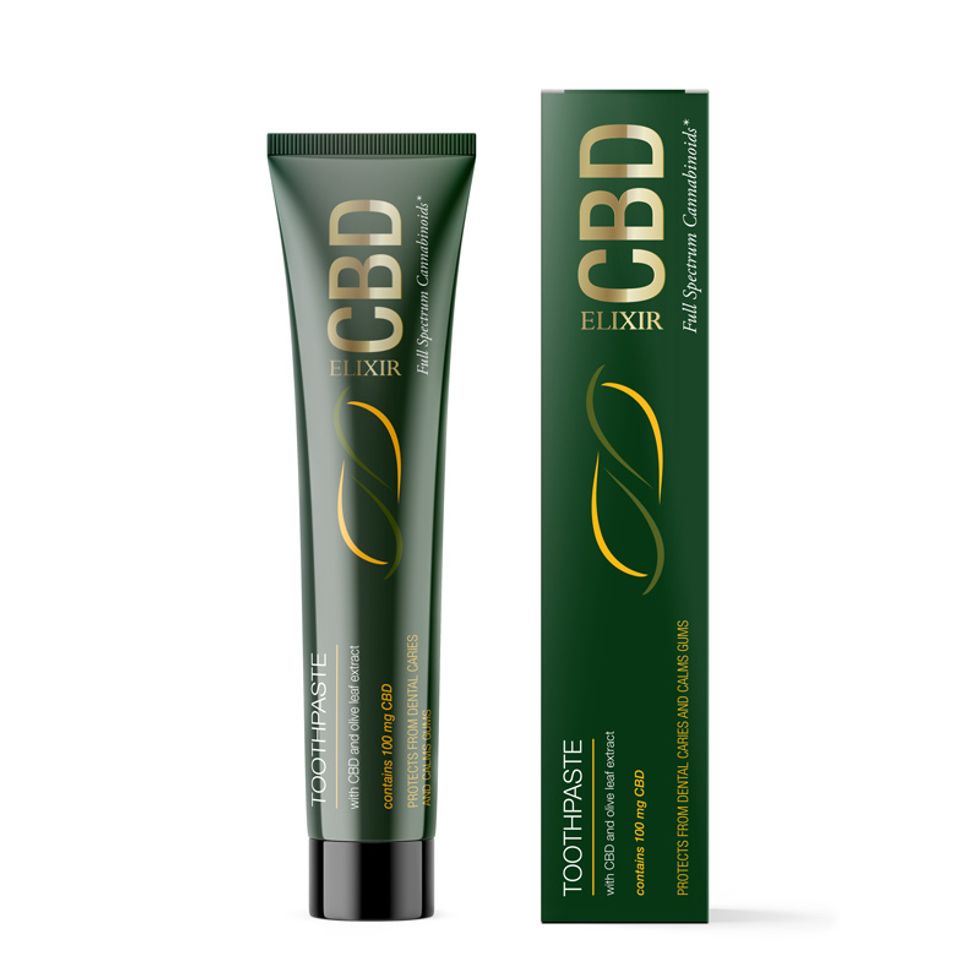 https://pharma-hemp.com/cbd-elixir-toothpaste/
If you're interested in the entourage effect, this full-spectrum CBD toothpaste deserves a try. The 2.5 oz tube contains 100 mg of CBD, along with traditional toothpaste ingredients like strengthening fluoride and stain-removing silica. It's totally suitable for sensitive teeth and gums since it's free of SLS and other potentially irritating compounds.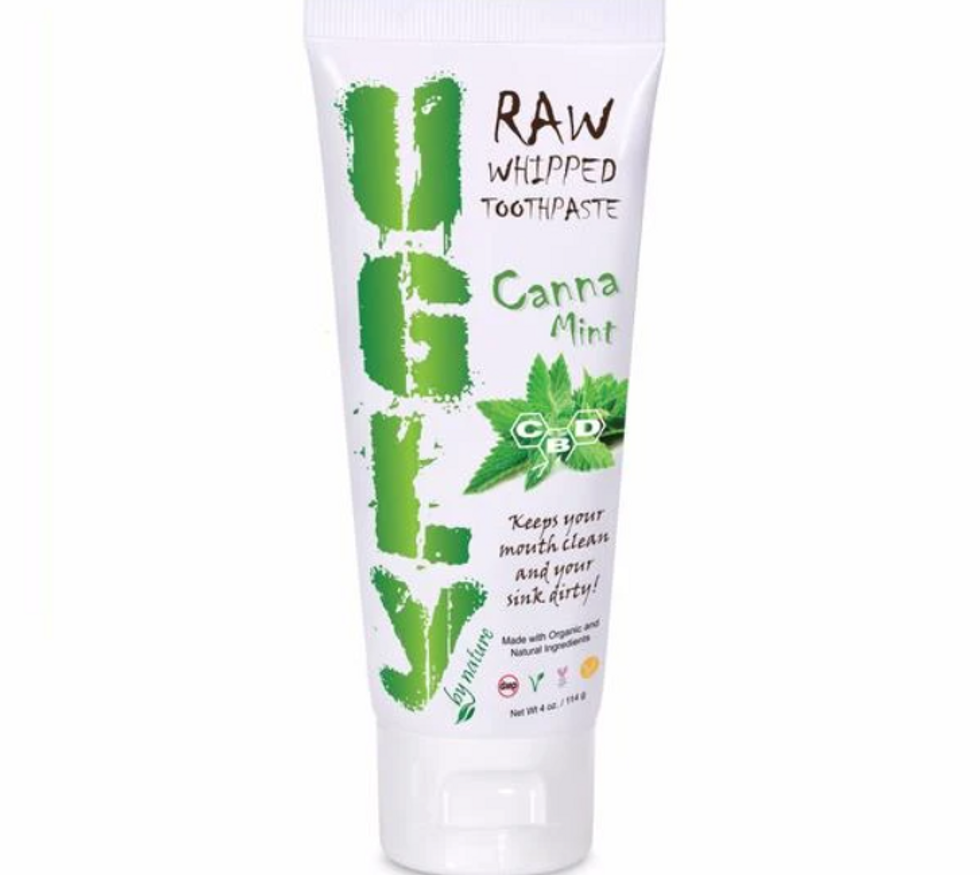 https://uglybynature.com/products/cannamint-1
A toothpaste advertised as being "ugly" immediately caught our attention! While this natural toothpaste might not be pretty, its effects certainly are. It's a fluoride-free, non-foaming toothpaste that's great for those avoiding synthetics. It's made with bentonite clay and diatomaceous earth, which give it a gray tinge but are beneficial for removing stains and bringing down the acidity in the mouth. The 4 oz tube holds 60 mg of isolate, so it's not too potent but still helpful.