Despite the fact that the results of the presidential election are still unknown, one thing is clear. Cannabis was the big winner this year.
With clear winners having already been announced, we now know that 4 more states have passed laws making cannabis legal in some way or another.
Montana, Arizona, South Dakota, and New Jersey made history during this 2020 election.
While it is really important for the movement that advancements continue to be made across the country, it would be a huge mistake not to point out that one of the states pulled off amazing an amazing victory.
South Dakota became the first state to legalize medical marijuana and adult-use marijuana at the same time. Considering how strict their anti-cannabis laws have been throughout history, it is definitely an eye opening move, and it passed!
It has been fascinating watching the evolution of the cannabis industry in the U.S., as well as around the world, especially in places like Canada where legalization of marijuana has occurred at the federal level.
In the case of America, it seemed like one day we woke up and legal cannabis had popped up overnight. Retail shops have been opening up in legal states every month since Colorado approved adult-use cannabis in early 2014 and can now be found in more than half of the states in the country.
Currently, there are more than 15 states with adult-use markets and another 30 with medical marijuana. The result is thousands of retail cannabis shops in communities across the country.
Today, the 2020 election will likely conclude tallying votes and that could mean major changes to the status of cannabis on the federal level, how it is scheduled by the DEA, and what the future will look like moving forward.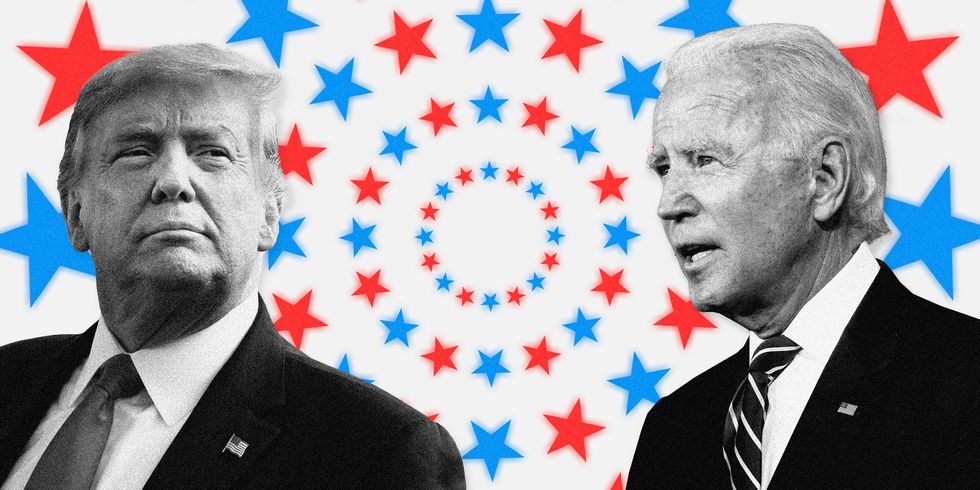 One thing that is for sure is the Biden administration is way more likely to advance cannabis legislation than the Trump administration, who have claimed to be taking a hands-off approach to enforcing cannabis' status as a schedule I drug, more lenient than the administration of his predecessor, Barack Obama.

Despite the fact that President Trump says he is not opposed to the medical use of marijuana, he has been vocal about opposing adult-use cannabis, effectively towing the line of the Republican party. However, recent polling shows widespread support for legalizing the plant among voting Republicans and it is likely that support will only continue to grow in the next few years.
Why the change of heart all of a sudden?
Well, call me a cynic, but somehow I feel like the devastating, on-going, history making recession could have something to do with it. As many states are in the midst of trying to figure out how to plug titanic size holes in their budgets, the idea of legalizing cannabis in their respective states, and collecting hundreds of millions, if not billions of dollars in tax revenue such a horrible idea,
However, not every state passed these laws because of a need to plug a budget deficit. Some of them, like New Jersey, passed via ballot initiative, making clear how the residents feel about cannabis and its place in their economy.
Below is a breakdown of the 5 states that passed legal cannabis and a brief summary of all applicable laws.
Montana
Both ballot initiatives, I-90 and CI-118, complimentary bills that both needed to pass in order to fully legalize cannabis, passed with flying colors.
I-90 creates a 20% tax on the sale of cannabis within the state, it creates a set of rules for the sale of cannabis within the state, and it allows individual counties within the state to opt-out of retail cannabis through a public vote.
CI-118 also plays an important role and actually amends the state constitution to set the minimum legal age to purchase cannabis in the state to 21 years of age or older.
Not to be left behind, there is a social equity part to these new laws that allow anyone convicted of a crime which has been legalized by initiative I-90, may apply for an expungement of their records.
South Dakota

According to the newly passed laws regarding medical marijuana in the state, those patients with a qualifying debilitating disease may posses up to 3 ounces of cannabis that has been purchased at a licensed dispensary.
Although the rules and regulations of the adult-use cannabis market still have to be clarified, the text of the initiative allows individuals over the age of 21 to purchase and possess up to one ounce of marijuana and/or grow up to three cannabis plants in their residence.
**Despite both of these initiatives passing with overwhelming majority, lawmakers in the state immediately went to the media to voice their displeasure with the results. There has already been multiple threats of lawsuits to overturn or re structure the laws that have already been passed by the will of the people.
It is disheartening to see supposed leaders defiance in spite of the will of their voting public, but the path to cannabis legalization has never been easy and will continue to be a challenge until something happen at the federal level.
If you are a pro-cannabis resident of South Dakota, reach out to your representatives, mayors, anyone in a position of authority, and let them know how you feel about the status of cannabis in your home state!
New Jersey

This is huge! As industry experts have been predicting all year, New Jersey was finally able to legalize adult-use cannabis. Governor Phil Murphy campaigned on the promise of legal cannabis and has been unable to make it happen in the years of his reign in the garden state.
The people have spoken, and in an overwhelming majority, residents who voted yes outnumbered those who voted no at a 2:1 ratio.
While this is a huge win for the state, now the real work begins, and lawmakers have to come up with the rules and regs for the program before cannabis can be sold at any retail location.
Besides being a major win for advocates and patients across the state, the implications of passing this law will be felt all the way up the east coast. It is widely believed that this vote will pressure neighboring states like New York and Pennsylvania to finally pass their own laws regarding adult-use cannabis. Something that NY Governor Andrew Cuomo has tried and failed to do for the last 3 years.
Arizona

Prop. 207, also known as the "Smart and Safe Arizona Act", legalizing adult-use cannabis in the state of Arizona has passed by a clear majority.
Here is a statement from the Arizona Secretary Of State's office on the newly passed legislation:
"The law would allow limited marijuana possession, use and cultivation by adults 21 or over; amend criminal penalties for marijuana possession, ban smoking marijuana in public, impose a 16% excise tax on marijuana sales to fund public programs; authorize state/local regulation or marijuana licenses and allow expungement of marijuana offenses."
Sales are not expected to begin until May of 2021, but possession will become legal as soon as the results of the election are certified at the end of the month.
In conclusion, it is hard to deny the dominance with which the cannabis movement has taken over the 2020 election. At a time when it is clear just how divided the country actually has become, there are still issues that we can agree on and that bring us closer together as Americans. Safe access of medicine for all those who need it. Who can't get behind that?
Now is not the time for complacency, it is time to continue advancing the movement and not stop until every single state in this great nation has fair and equal access for all of its residents!