In what can be seen as a huge victory for organized labor in the State of Massachusetts, employees at Cultivate Holdings, a cannabis company based out of Leicester MA, voted to unionize this week!
Cannabis industry news is most often centered around legislation, the awarding of operating licenses in newly approved states, as well as any new products or store openings. However, the employees that power this industry are rarely discussed or given the coverage they deserve.
At a time when the majority of retail businesses in the country have been closed due to the COVID-19 pandemic, cannabis workers have been deemed 'essential', and have continued to work, putting themselves in harms way so that people who rely on marijuana as a medicine can stay well.
Often overlooked and under-appreciated, non-executive employees are usually the first ones to get fired, have their pay cut, or suffer some kind of injustice. That is exactly the reason unions exist, to protect and defend the little guy. So, the fact that UFCW membership is continuing to balloon is great for the cannabis industry as a whole. By allowing employees to unionize and protect themselves, they will be happier and in turn, the industry will continue to flourish.
Who Were the First Cannabis Workers To Unionize In Massachusetts?

According to the UFCW website, Cultivate Holdings employees will be joining another 100 cannabis workers in MA as the newest subset members of UFCW Local 1445 begins to grow rapidly.
Back in November 2019, a cannabis company called Sira Naturals became the first in the State of Massachusetts to reach an agreement on a union contract when they voted to join UFCW Local 1445 (this is the United Food and Commercial Workers Union).
Out of the entire company, 100 employees voted to join UFCW, 85 of which were from the Cultivate's Milford cultivation and manufacturing facility, while an additional 30 came from its dispensaries in Needham and Somerville.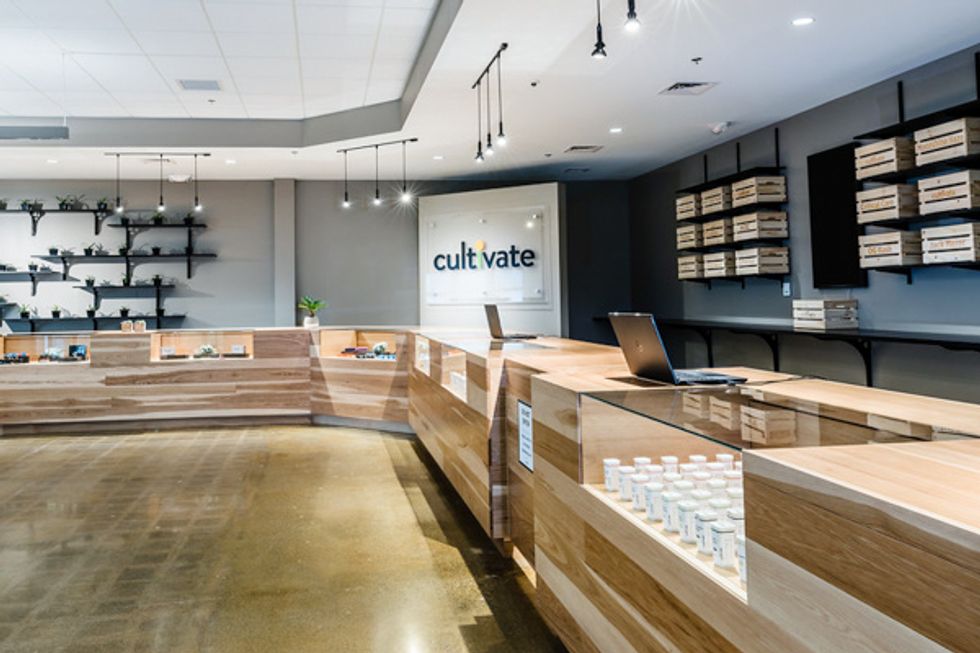 Cultivate, Needham MACultivate Holdings
UFCW Local 1445 President Jeff Bollen made this statement following the vote to unionize by Cultivate:

"As the cannabis industry continues to grow, the UFCW is proud to support these good jobs and good businesses that empower their workers in this new part of our economy. It is exciting to see a company's management proactively support the right of its employees to organize the way Sire has. This is truly a case of a case of a forward-thinking company and union coming together to build a strong foundation for tomorrow's workforce."'
An interview by Local 1445 with Adam Schneider, one of the Cultivate's earliest employees, was very revealing as to why so many choose to vote yes and join the union. Schneider said that the reason he wanted to join the UFCW was "because it would offer workers protections and representation in a fast-changing industry. Now if anything happens to me, instead of going to the higher-ups and hoping they listen, I can go to the union and have them fight for me and escalate it if they need to. Someone has your back."
What Is the UFCW? Local 1445?
UFCW stands for United Food and Commercial Workers Union and is a union that represents grocery stores, meatpacking facilities, food processing facilities and the retail sector. Additionally, the UFCW represent tens of thousands of cannabis workers all over the United States. It is currently the most important organization for the employees in the cannabis industry and continues to grow at a rapid pace. In total, the UFCW has over 1.3 million members in both the U.S. and Canada. Reports indicate that there could more than 150,000 cannabis workers in their ranks.
Local 1445 is a chapter of the UFCW.
Our union family has been proud to help lead the development and stabilization of the emerging cannabis sector through our innovative Cannabis Workers Rising campaign, which has existed since 2010.

We represent tens of thousands of cannabis workers across multiple states, UFCW members in the legal cannabis industry work in growing and cultivating facilities, manufacturing and processing facilities and also in laboratories and dispensaries.
The legal cannabis industry is a newly regulated market that can offer local communities jobs with strong wages and benefits that cane't be outsourced.
The UFCW offers cannabis workers and business owners, along with patients and coalition allies, the opportunity to work together to accomplish shared goals. By crafting and supporting targeted legislative efforts, along with negotiating the best contracts for workers, we've been able to set high standards throughout the industry.
Wherever cannabis is legalized, the UFCW is committed to building a successful industry with a thriving, diverse, and skilled workforce.
Jobs that pay better wages and provide better benefits -- like the ones we represent -- are vital to keeping our economy afloat and families out of poverty.

UFCW Local 1445UFCW
Why Would Cannabis Workers Want To Unionize?

Workplace Safety
Affordable Healthcare
Parental Leave
Retirement Security
Better Pay
What Other Massachusetts Cannabis Companies/Employees Joined UFCW?
Prior to Cultivate Holdings admission to the UFCW this month, another two Massachusetts based cannabis companies voted to join the UFCW. The first one was Mayflower Medicinals, from Holliston, and the other was New England Treatment Access' Franklin cultivation facility. Despite a victory at their cultivation facility, NETA dispensary employees from their Brookline location overwhelmingly voted against the move.
According to the UFCW, there are ongoing talks between the UFCW and Cultivate employees to persuade the retail workers to join the union along with the rest of their coworkers. We will keep you updated as the story develops.