We all know that CBD is hotter than ever.
There are so many reasons more and more people are turning to CBD. Aside from the extract being a reliable sleep aid, CBD provides relief for anxiety, depression, and post-traumatic stress disorder. In "nonpsychoactive" blends, CBD oil is THC-free, meaning it won't get you high, or give you the munchies, but you'll be able to get all the health benefits that come from marijuana.
But with an endless array of CBD brands out there, many people get hung up on the taste no matter what brand they try. CBD isn't the most delicious substance in the world, it can often taste bitter and acidic. If you have a sensitive pallet, it can make taking the supplement an arduous process. What if there was a way to get all the positive effects of CBD but without the nasty taste? In fact, what if I told you CBD could actually taste delicious?
Caliper was founded on the principle that CBD and all of its benefits deserve to be experienced by everyone, but it can be hard when misinformation surrounding the supplement remains rampant. So to combat this, Caliper constantly strives to provide accessible CBD that is consistent, fast-acting, and scientifically evaluated, so users can forever rest easy that they're getting the best possible care.
"Caliper is in our name, because we're all about measuring precisely," explains Keith Woelfel, the company'ss Director of Research & Development. "It's the bedrock of everything we do." It's true that every batch of Caliper CBD is extensively tested to make sure its dissolvable powder is safe and of the highest quality. To do this, the company works with some of the nation's top labs and maintains its own Emerald-certified in-house lab. Interested customers can even view the results of these studies in Caliper's comprehensive lab report, known as a Certificate of Analysis (COA).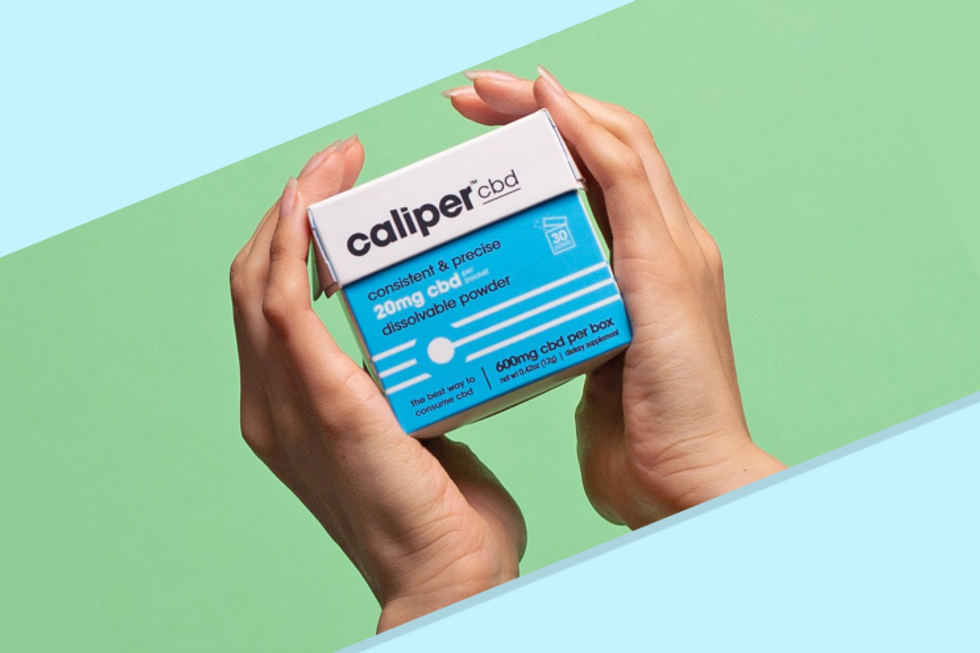 CaliperThe New York Post
So what makes Caliper so special? Well, simply put it delivers CBD through a powder rather than as an oil or soft gel. The classic Flavorless Caliper CBD Dissolvable Powder mixes are Caliper's bread and butter. The powder can be mixed in any beverage or food, at any temperature. The 20 mg packets are easy to grab and take on your commute, as they require no measuring and offer no mess or any bizarre aftertaste.
Caliper also offers Swiftsticks, which are packets of CBD powder that alternatively is bursting with flavors. A great-tasting way to get your daily dose of CBD, the Caliper Swiftsticks is a precise 20 mg of CBD, which can just be sprinkled on your tongue. It will immediately dissolve, and fill your mouth with delicious flavors in the process. Swiftsticks come in three all-natural, scrumptious flavors including Lemon Lime, Mixed Berry, and Cool Mint. For a limited time, Caliper subscribers can also partake in a refreshing Lemonade flavor, which is a perfect flavor to ring out the summer with!

Regardless of what you choose, the reviews forCaliperare absolutely stellar. "I LOVE that you can pour these right on your tongue and they're in nice little packets," said Caliper customer Donnie J. "I can't tell you how many times I've tried to bring my tincture with me and had to check my backpack 100 times to make sure it didn't spill all over. I'm a convert, Swiftsticks are the way to go. Plus, tastes great!"
Another satisfied customer named Christine wrote that she enjoyed the fact that Caliper is gluten-free, Non-GMO and THC-free. "Also, unlike other products, they are free of calories and fat," she wrote, "which is good if you are watching your weight. A good match with workout routines."
Learn more about Caliper here.